More exciting Doctor Who news has arrived. Nerdgazm has exclusively learnt about one of the episodes filmed as part of Doctor Who Series 14 Block Four, as well as the Director of Photography for the block. Under director Ben Chessell, the fourth block began filming in early April. This new information also corrects the previous belief that Block Three involved filming Episodes 14.2 & 14.3. While Series 14 of Doctor Who continues filming, the BBC has begun promoting the 60th Anniversary specials. A new trailer confirmed the episode titles during last week's Eurovision.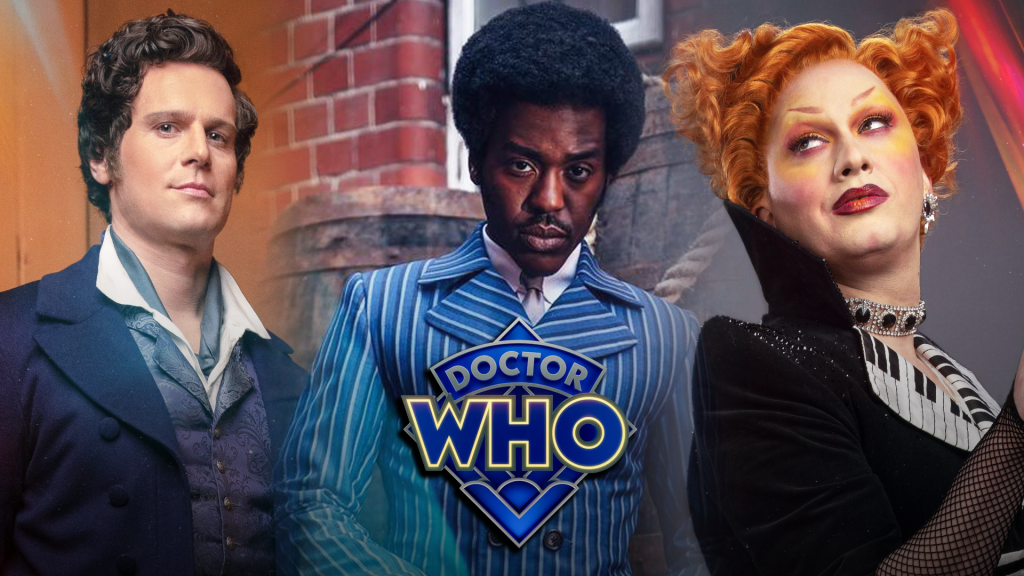 Doctor Who Series 14 Block Four: Episode 14.6!
Nerdgazm can exclusively reveal that Block Four of Doctor Who Series 14 will partly consist of Episode Six. The information comes from a copy of Camera & Steadicam Operator James Chesterton's CV, which we discussed in an article about Block Three filming. This afternoon, an update to Chesterton's CV noted that he has worked on Block Four for an episode – "Ep 6". This would confirm that Episode 14.6 is part of Doctor Who Series 14 Block Four!
Given the entirety of this work, as A Camera Operator has been during May, we can deduce that the filming at the end of April that involved Jinkx Monsoon and the Fifteenth Doctor & Ruby in 1960s-style attire… is NOT Episode 14.6, but instead the other episode of the block (now believed to be Episode 14.2). In fact, one would strongly suspect this episode will feature regency-style costumes and guest star Jonathan Groff.
The Director of Photography for Series 14 Block Four
The CV has also revealed that DoP Jamie Cairney has joined the Whoniverse to work as the DoP for Block Four. And we have confirmed further regarding a new update of Cairney's CV this month. Cairney's work as a cinematographer includes a range that spans from Dead Ringers to Vikings. His work as a DoP is quite the list, too: Sex Education, The Thick of It, Uncle, Endeavour… To name just a few!
For long-time fans of Ncuti Gatwa (the Fifteenth Doctor), we'd imagine that the prior work on Sex Education is the most immediately notable aspect. A run of thirteen episodes across its first three series. At any rate, it will certainly be interesting to see Cairney bring his talents to Doctor Who Series 14 Block Four!
Some Clarity For Block Three
Where previously, Chesterton's CV noted the two episodes of Block Three as being Episode 14.2 & Episode 14.3… (Something we exclusively reported on last month.) The new update has re-listed the block as Episode 14.1 & Episode 14.3. It remains the case that the work is listed as being between February and April 2023 under Block Three director Julie Anne Robinson.
It seems likely that Chesterton's CV was accidentally erroneously updated in April, with the error only being noticed when returned to for a new update. We can now say the Fifteenth Doctor's series opener episode is in the can! How exciting!
Doctor Who will air in November 2023 with three special episodes as the show's 60th Anniversary headliner event. David Tennant returns as the 14th Doctor alongside Catherine Tate as Donna Noble. Ncuti Gatwa's first episode as the Fifteenth Doctor will air over the festive period, while his series 14 will debut in 2024 with Millie Gibson. Disney+ will be the exclusive home for new seasons of Doctor Who outside of the UK and Ireland.
---
More From Nerdgazm
🚨 – The new Doctor Who: The Collection release – Season 9!
🔥 – An Exclusive Whoniverse Chat With Short Trips Writers Angus Dunican & Felicia Barker!
👀 – EXCLUSIVE: Doctor Who: Redacted confirmed for a second series!
You can also Follow Nerdgazm on Twitter, Find us on Facebook & Check out our Instagram!