James Pardon's involvement with photography has been quite the adventure, in large part because of Doctor Who. From assistant work in 2016 all the way to publicity shots taken & released this very month… He is a multi-talented photographer who is certainly well-known in the industry for his stills and behind-the-scenes shots.
With The Power of the Doctor in the rear-view mirror, the 60th anniversary specials getting ever closer & his work on Series 14 being the present concern for him – we were delighted to get a chance to chat about his work.
Questions courtesy of Oliver Lott, Jamie H. Cowan & our readers.
---
James Pardon interview
Photographic Beginnings
So when and how did you first get interested in photography?
Really from the turn of it going digital. I had the odd point-and-shoot film camera and disposable before. It wasn't until the digital era started that I got more interested. Both I and my brother are photographers. We'd often just mess around with cameras and flash experimenting to see what we could come up with.
Did you then go and study photography academically, or did you just start building a portfolio?
I've never done any sort of educational course or training with photography, I don't really believe you need to. Yes, you have to learn the equipment inside and out. But, the actual composition and style of the photo have to come from you. If you've got a creative mind and you have the time to learn yourself, either through trial and error, there are boundless videos online you can learn from or just going out and shooting as much as possible you soon teach yourself.
Is it a bit exciting but odd that, now, your photographs are so well recognised the world over when it comes to Doctor Who?
It's quite cool when I see a photo of mine out and about. It's also quite cool seeing fans posting their favourite shots or artwork they've created online. Doctor Who is quintessentially British, and it gets referenced in so many other TV shows, films and podcasts so to be involved in the process in any way is quite cool, but to have my photos front and centre of promotional material and that's what gets fans excited is very satisfying.
James Pardon's Thoughts On Fans & His First Work
And on that, what are your thoughts about Twitter and Facebook accounts that dedicate themselves to collecting all these photographs together? You know, things like the Tragical History Tour and The Black Archive…
I wasn't aware of the Tragical History Tour, but I've bookmarked it now! I've often used The Black Archive to redownload images I wanted to use rather than having to dig out the original. They always tag me when uploading new shots as well, which is great. To have an online archive of high res images for people to grab I think is great.
What was your first professional TV photography work?
Before TV, I did various other photography work. I used to shoot cars for magazines and also high-end houses for architects. But for TV, I started off doing small indy* productions and student films. I was just offering myself up to give them some shots as well as building a portfolio for myself. I think one of the first things I did was a show for ITV called 'The Man'. It was renamed 'Sticks and Stones' and set in an office environment, very different from Who!
[*A. Ed. Note: indy/indie means an independently produced piece.]
Getting To Grips With Who
How did you first come to be involved in the photography shoots for Doctor Who?
I was trying to just get as much experience as I could. As it's quite a tricky job to break into. I emailed a bunch of established photographers, offering myself up to come help, carry bags, set up lights, and so on,just to get on set and absorb the production; there's a lot to learn on a set aside from photography. I ended up assisting a few times on some of the Capaldi episodes, and then I was offered some days of my own, and it went from there.
What's been your favourite episode to work on?
It gets tricky when you ask these sorts of questions, they tend to blend together for me. I'm quite fond of War of the Sontarans. Filming out in the torrential rain and mud was grim. I thought it ended up looking really atmospheric, and the sets for the hospital just looked awesome.
And what's been the trickiest to do, whether that be because of lighting or the particular location or something else?
It can be both, I'm usually told to go on a date where what's being filmed that day on paper sounds really cool to photograph, but it's not until you turn up that you realise it's a tiny room or very limited access so you have to work with the crew to try and get a couple of minutes to get in and get the shot.
More often, lighting can be the nemesis, gone are the days of huge lamps where you have all the light in the world and its now much lower powered LED lighting and LED tubes that can be used a lot closer to the actors at lower power. It looks great on the video camera running at a lower frame rate. For stills shooting at a faster shutter speed, it can be a lot harder, fast prime lenses help. I'll often bring in my own light if there are a few minutes where I think I can grab the cast for a photo outside of what's being filmed.
Focusing In
It might seem like a bit of a silly question, but for fans, I imagine it's a fair one to ask: how do you pick out what to focus on in a particular moment, during a scene or in-between takes?
The key is to be always watching, I'm like one of those birds of prey just constantly keeping an eye out on everyone in case I see something that looks interesting, swoop in for a photo and then disappear back into the shadows. It's also a case of shooting a lot of images. On an average day, you might shoot 1000–2000 images. You might end up submitting to production a 10th of that. From that 10th, they might whittle it down to just a couple. So you end up seeing one image focused on one particular thing. In reality, there are many more to choose from, offering up different angles and subjects.
Among all your work as a photographer, what has been your favourite thing to work on and why? We won't be upset if you don't say Doctor Who, we promise!
The bulk of my time working on TV has been with Doctor Who. I've made some good friends through it. I really enjoyed doing a couple of days on a Jane Austin series called 'Sanditon'. It had lots of period locations and costumes make for great photos. If I had to pick one, it would probably be one with the main cast and Sacha all on set. I guaranteed to be a good day.
The Technical Details
What camera set-up do you typically use for Doctor Who shoots?
Currently, I shoot Sony, I've tried them all and ended up using Sony as it just works for me. I've got a Sony A1 and A7R3 as backups and various lenses, mostly primes as they gather more light in darker sets but I've got a couple of zooms for versatility. I'm the opposite of a gear snob I've got some expensive gear and some very in-expensive gear, if it works and does the job, I'll use it.
Now, it's worth clearing up for the fans that still don't know that though you take the photos, you're not in charge of their release or anything like that. Who does? And for the sake of the archivist-fans out there, do you keep copies of all the ones that never get seen by the public?
That goes to the job of the publicity team who work with the producers as to which images they want to use. It's up to them to decide which to release and when. I'll get back from shooting, backup the images then spend a day or two going through them, selecting which I like, giving them an edit and I'll submit those to the BBC. I keep every photo backed up that I've shot on a NAS and separate external drives. I'll get an email a year or two later saying, "Do you have any shots of X?"
Of course, part of it is approvals from the actors themselves, so is that a bit of an odd situation to be in where you might think a particular shot is really good but it won't make the cut, because they're not happy with it personally?
Yep that happens, I'm glad that's not part of my responsibility really. I'm my own worst enemy when it comes to choosing images. What I think is a great shot others don't and vice-versa!
Big Fan Questions For James Pardon…
What is your single 'diamond' photo, as it were? The one you're most happy with and most proud of?
I'm not sure I really have one. The one of the Cyberman reaching out to grab me I think epitomises Doctor Who. The ones that are most satisfying are when you push for time to get an actor, having scouted an area and visualised a shot in your mind, it pays off and you see it get used, shots that have come from my own idea rather than just shooting what's being filmed, they're the majority that appear on my website and ones I love to do the most.
Roughly, how many photos do you think have never made it out?
I had a quick look at my Doctor Who library and it's just under 250k image count. I'd save on average for an episode they might have around 1000 images to choose from. From that maybe 50 total would appear? Then you do see extra ones turn up in magazines or merchandise you didn't know were being used. Shots never seen though is in the thousands!
Looking Back At 2021
And I know you have a special little photobook you made up at the end of Chris' run. Can you tell us a little bit about that?
For every show I work on if I've captured enough images to make it worthwhile, I like to create a photobook. It's just for me to use as a portfolio piece. I did one for Jodie's first season and brought it in for the cast to sign. They, the cast, then asked for a copy each so I did that, then a few of the crew wanted one, then a few more and I ended up getting a bunch made, I did it for the following season and I need to finish making the final one! It's a compilation of stills and bts photos that I personally picked out. It's a big lay-flat coffee table style photobook, a nice memento for cast & crew to look back on.
By virtue of The Power of the Doctor, you've photographed Doctors 5, 6, 7, 8, 13… and I believe perhaps also 12, as you did work in some capacity on Series 10… so it has to be asked: if you could pick any one other past Doctor to photograph in an episode: which would you pick and why?
You can add the 10th/14th and 15th to that list now!* I'd have loved to have done a series with Sylvester McCoy, for the time I had with him on a gallery shoot which is where I have them in a studio setup he was so great, pulling all the poses and seemed a real laugh. I've some funny photos that unfortunately will never see the light of day. I'd have loved to have photographed the late great John Hurt, such an amazing actor. I've been a big fan of him.
[*A. Ed.'s Note: we deliberate;y intended to leave the 14th and 15th out for a later question – but genuinely forgot to count the Fugitive Doctor. And the numerous pre-Hartnells. This was my fault, not Oliver's. Sorry, Oliver!]
As an aside from Who, you've also worked on a few episodes of photography for Bad Wolf's final series of His Dark Materials. How was that as an experience?
I only did a couple of days on that, just covering for another photographer. It seemed quite epic in scale. I'll confess I've not watched all Season 1 yet so couldn't tell you much about it! There were some puppeteers on set which was interesting to see how they go from that to the finished piece.
The Future, As Shot In 2022 & 2023…
Well, as you spotted, we did leave aside a Doctor back there a few questions ago. Actually, even two. But it has to be said: you were spotted out in Bristol snapping photos for the third 60th special… so it has to be asked: how long have you had to keep secrets about those specials? And in general, how tricky is it having to keep all lips-zipped about it?
Yeah that was back in… June I think so it's flown by, I'm quite excited to see it air now as I only came on board with the specials for last 1/3rd of filming so I'm just as in the dark as everyone else as to the rest of it. You'd probably think I know more then I do but the reality is as a photographer we aren't on set every day, we only get sent on days that should look good for stills, so often I get sent the call sheet for a day which in the grand scheme of things is a really small part of the overall episode, so it's a case of trying to piece together the random days to work out what it's going to be about.
Which in itself can be fun, I remember from Jodie's seasons you'd turn up 1 day and be on the Tardis, then 3 days later a pirate ship and then the next day you could be filming in a power station or the top of the Millennium Centre in Cardiff, very random!
Now, of course, in recent days, we've had photos revealed of new cast announcements for Series 14. That of Jemma Redgrave and Aneurin Barnard. Can you tell us if they were taken on announcement day like Neil Patrick Harris or were they taken some time prior in prep?
Those shots were just the other day* and I did them in the same morning they started filming. It's always best to get a publicity image out before grainy paparazzi shots appear, so we did those before they went to set. You'd never have guessed where exactly we shot them but it was a case of scouting about where the unit base was for different backgrounds that looked interesting. That's half the job of the photographer is looking for interesting locations and light, whether it be in a carpark or on set somewhere out the way to get some portraits.
[*A. Ed.'s Note: James answered our questions on the 15th of January. The shots were taken on the 9th of January.]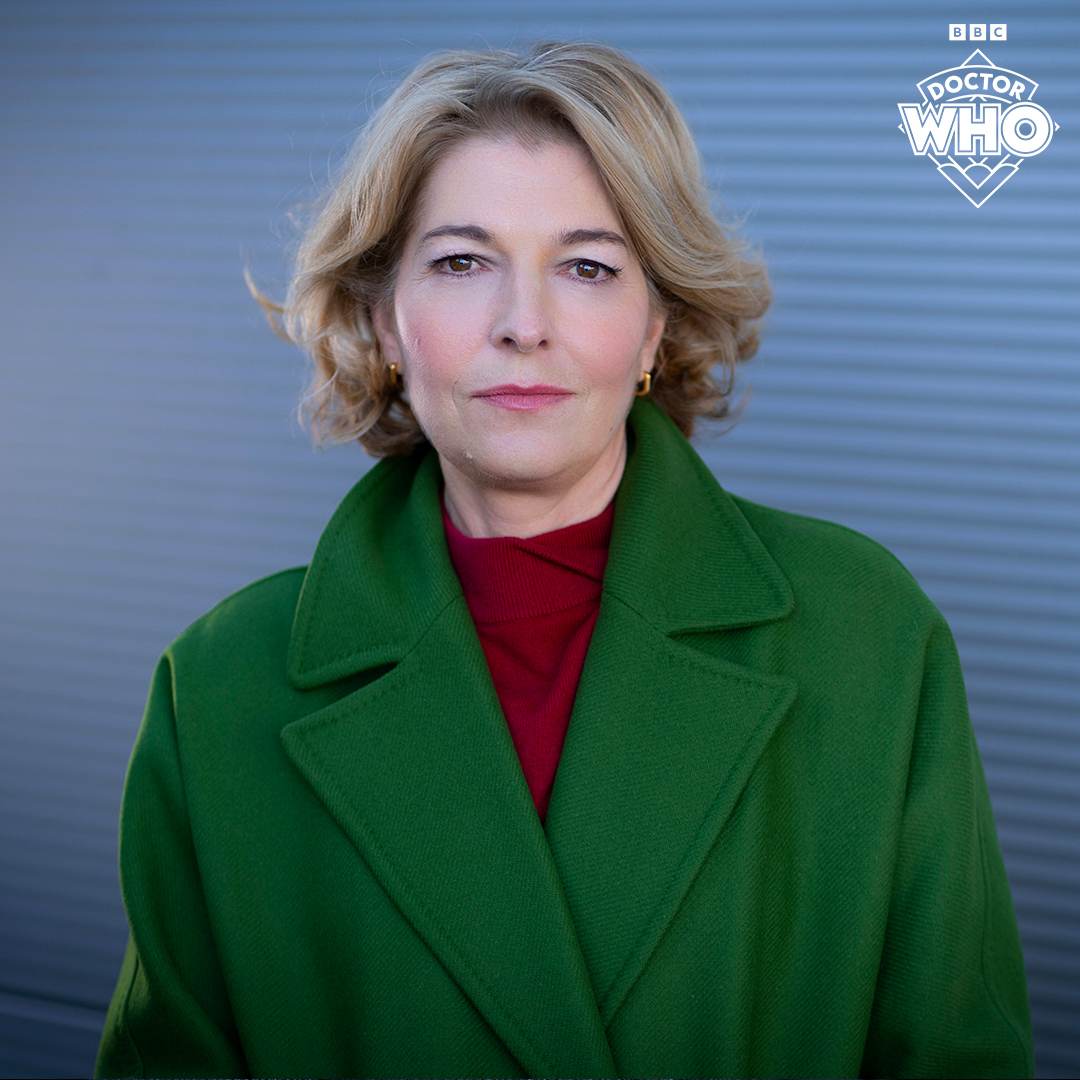 Photo Finish
We don't imagine we'll get much out of asking, but we never fail to try… especially as Rachel Talalay gave us a mysterious blue-screen wall tease to ponder, is there anything you can tell us about the 60th specials or Series 14? Even just a little one or two word hint that will never make sense until we've seen them?
I thought long and hard about this but I dare not say anything. I came up with various words but having seen how fans put together possible storylines and ideas I wouldn't want to risk it! Often they are way off but the odd person I've seen get very close in the past! I love working on the show so no chance I'm going to jeopardise that.
Is there one photo in the whole of your career that you wish you had taken at a different angle?
I wouldn't say one particular photo, it definitely happens though when you walk away and then lightning strikes and you think damn! I should have shot it like this! You just live and learn and try to apply it next time.
Are you excited to be working on Doctor Who for the foreseeable future?
Totally! It's such a fun show to work on, it's a bit different now as 99% of the crew have all changed from previous seasons so it's lost that family atmosphere it used to have. I'm sure that will grow in time if the same crew stay on. It's quite lighthearted on set, it's not like some gritty crime drama where it can feel a bit wrong to be having a good time where it's all about crime and murder or something, it's Doctor Who what's not to love.
Final Questions For James Pardon
Have you seen the new Sonic Screwdriver, if so… have you done photography work with it yet?
I haven't! I'm sure I'll get to shoot it eventually.
What's the one location you've taken photography that still blows your mind to this day?
For Doctor Who I got to go to Valencia and the City of Arts and Sciences. It had some amazing structures. It's funny once you recognise it, you see it in so many sci-fi shows. That was back on the last season of Peter Capaldis series. Unfortunately on Jodie's seasons, it was usually a Welsh quarry or dilapidated warehouse near Cardiff. Covid put a stop to any real travel unfortunately.
---
James' official website, showcasing his work, can be found here. We are sure to see more of James' wonderful work as we head towards the broadcast of the 60th anniversary specials in November of this year… And plenty more beyond that for Series 14!
With many thanks to James Pardon for giving us his time for this interview.
---
More From Nerdgazm
– Follow Nerdgazm on Instagram