Dr Who and the Daleks had a gorgeous 4K remaster last month. Seeing a story known for being a black and white seven-part serial transformed into an hour and a half film filled with action and colour was genuinely impressive. I had never seen the Cushing Doctor films and wondered about their place in the Whoniverse. After enjoying the first film, I had enormous expectations for the sequel: Daleks' Invasion Earth 2150.
The 4K remaster was released this month, and this time, the film is based on a serial that I hadn't seen. The Dalek Invasion of Earth aired in 1964 as part of the First Doctor's second season. It featured the first return of the Doctor's most popular foe, the Daleks, who would, of course, go on to only grow in popularity.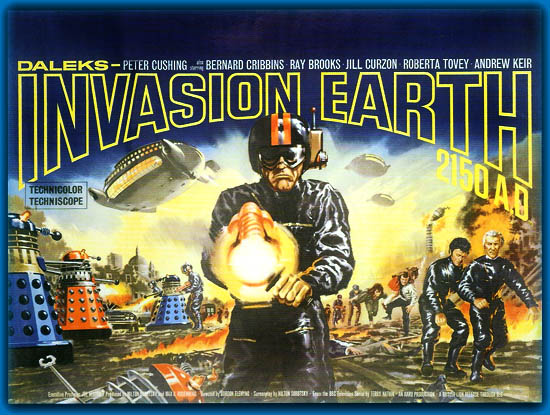 What is it about?
This time though, the Daleks had broken free of their home world where we met them previously…and now they had invaded Earth! This sequel is an adaptation a six-part story that aired in 1964. It follows a gang of humans, fighting back against the aliens who have been enslaving people and plotting to turn the Earth into a giant spaceship. Yes, it's that crazy! The TV serial also dealt with the departure of Susan, in Doctor Who's first companion exit. Sadly, that was dropped from the film.
Daleks' Invasion Earth 2150 features the new character of Tom Campbell (Bernard Cribbins). He finds himself suddenly transported to the future, where the Daleks have invaded Earth and ravaged the planet. However, the surviving humans have formed a resistance movement. Additionally, the Daleks have set up a mining complex in Bedfordshire of all places. While I love this classic, it is funny they chose Bedfordshire of all places.
Who is in it?
The budget for this film was larger than the first. That should have meant it would be bigger, brighter and bolder than Dr. Who and the Daleks. Considering how beautifully the first film looked, that meant a lot. This sequel boasts an all-star cast, including the return of Peter Cushing as Dr. Who and Roberta Tovey as Susan. Roy Castle and Jennie Linden as Ian and Barbara did not return due to scheduling conflicts.
Louise, Dr. Who's niece, confusingly took Barbara's place this time. The late Bernard Cribbins as Tom Campbell replaced Roy Castle's Ian as the comedic lead/male companion. Bernard Cribbins is no stranger to Doctor Who. He returned to the franchise in 2007 for the Christmas Special and then returned through 2008-2010 as Wilf. From set reports can expect to see him return for the 60th Anniversary in 2023. Sadly as of the 27th of July 2022, Cribbins passed away at the age of 93.
The supporting cast includes Andrew Keir, Ray Brooks, Keith Marsh, Godfrey Quigley and many more. Eagle-eyed fans might even recognise Eileen Way as the Old Woman. She played Old Mother in Doctor Who's first serial, An Unearthly Child.
Thoughts on the film?
Daleks' Invasion Earth 2150 is typically 60's. The costumes, the sci-fi elements, the spaceships, and the music are products of their time. The cast gives great performances all around, and Roberta Tovey proves again how a much younger Susan works better as a character. There are many action sequences with car chases, explosions and exciting fight sequences, but it falls flat. What begins strong becomes a bit dull by its midpoint. It is snappy storytelling, and the pacing rattles along nicely. Like the first film, though, it wraps up too quickly and ends abruptly.
Bernard Cribbins brings the comedy and has a hilarious scene where he pretends to be a Robo-man. There's some excellent stunt work and clever effects, especially for its time. In some respects, it feels quite similar to modern Doctor Who. Even the Daleks sound very similar to Nicholas Briggs' interpretation of the iconic voice.
Peter Cushing's Dr. Who feels very much like William Hartnell for the majority. Still, there are some lovely moments where he makes the character more his own, and it's interesting to see an alternative take on this character. Regarding its place in the canon, could it be that this takes place in Universe Two, which we discovered exists in Flux?
The product placement is a strange thing that stands out about this film. It was one of the first instances of a particular brand offering money to a film studio for featuring in their work. Sugar Puffs are still very popular in 2150, which seemed slightly jarring. Also, for something set in 2150, it felt suspiciously like 1966 in costume and setting. Understandably, the remaining humans had to live sparsely and couldn't afford extravagant clothes, but surely fashion would have evolved by almost 200 years from when this was made. The music also doesn't work in some instances. Unlike the grand Murray Gold-esqe score of the first film, this one sounds more like a camp 60's spy film.
What else is included?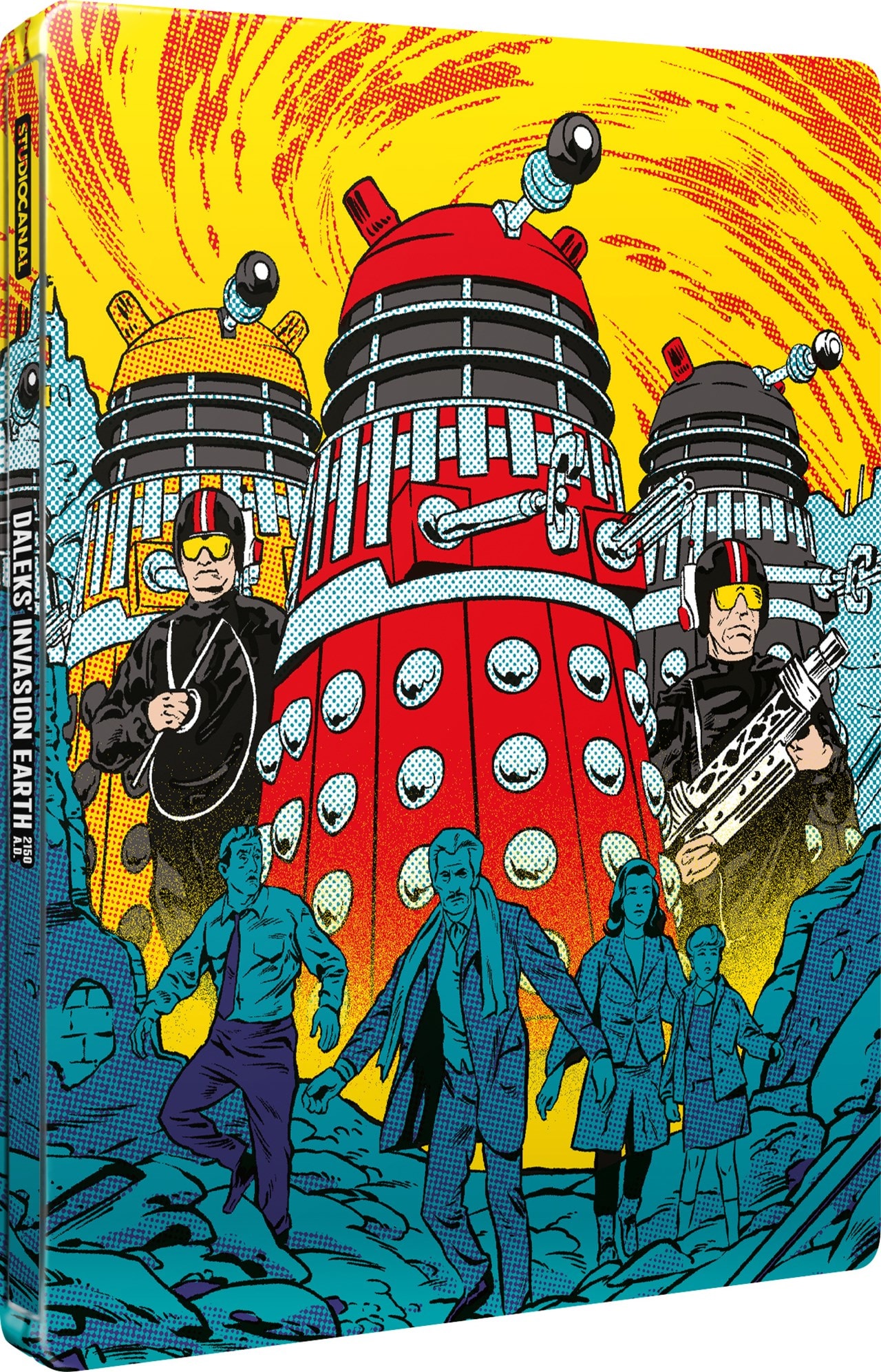 Dalekmania looks at the making of the two Dalek films with interviews with the cast and crew. The Dalek Legacy: Invasion of Earth looks back at the making of the second film. There's a short and informative feature about the restoration process and a couple of interviews with Bernard Cribbins and Gareth Owen. There are also audio commentaries and galleries of still images. It comes boxed in a beautiful steel bookcase, which is heavily influenced by the bright, colourful pop art of the 1960s.
Overall, this isn't a perfect part of Doctor Who's history, but it's well worth watching. There's a lot to love, and the special features are fun and informative. This is a unique, niche part of Doctor Who history that every fan should experience.
Daleks' Invasion Earth 2150 is out now on DVD and Blu-Ray.
---
More From Nerdgazm
? – Follow Nerdgazm on Twitter
? – Follow Nerdgazm on Facebook
?- Follow Nerdgazm on Instagram