Actress Anjli Mohindra has been no stranger to the Whoniverse over the years. Beginning in The Sarah Jane Adventures as Rani Chandra, she returned for multiple roles in Big Finish dramas and audiobooks. She later came back as a villain in the Doctor Who, season Twelve episode, Nikola Telsa's Night of Terror, where she played the Queen of the Skithra. Mohindra appeared in a Behind the Sofa feature for the season eight boxset. She took part in this alongside her partner, Sacha Dhawan, who plays the Master alongside Jodie Whittaker's Doctor. Now Rani, Clyde and More Return for New Big Finish Series!
Mohindra reprised the role of Rani for the lockdown special webisode, Farewell, Sarah Jane and Doctor Who Redacted earlier this year (You can catch up on all the Easter Eggs in Redacted here) There was even a mention of Rani in the documents that players read through in The Lonely Assassins game. It all goes to show there's a lot of love for the character, and she's still on fans' minds all these years later.
In recent days though, there has been a buzz of excitement surrounding Anjli Monhindra's potential major return to the Whoniverse as Rani Chandra, alongside Daniel Anthony as Clyde Langer. Ella Watts, the producer/director of the recent Doctor Who Redacted series on BBC Sounds, was pictured with the pair on social media. Mina Anwar pushed these rumours even further, who plays Rani's mum, Gita. On 16th July, she posted on Twitter, saying:
"I'm recording something so exciting with @bigfinish next week. It makes my heart burst with happiness."

Mina Anwar via Twitter
What Do We Know?
On the 19th of July, fans received confirmation from Big Finish that Anjli Mohindra, Daniel Anthony and Mina Anwar would reprise their roles for a new series. The audio drama is titled Rani Takes on the World: Beyond Bannerman Road. It will be released in April 2023 and follows Rani's adventures fifteen years from The Sarah Jane Adventures. There will be a volume two to follow in December 2023.
The new box set is planned to contain three stories: It begins with Here Today by Joseph Lidster. Secondly, we have Destination: Wedding by James Goss. Finally, The Witching Tree by Lizzie Hopley.
Rani Returns Officially!
In a statement from Big Finish, Anjli Mohindra spoke about Rani's return:
"There's something so ingrained in me playing this character that has made it all slide straight into place. But also, reprising the role of Rani in 2020 for [Doctor Who Lockdown story] Farewell, Sarah Jane was a real springboard into this. Rani is such a part of me and who I am, and I'm a part of Rani, that it just happened naturally.
"I think it's gorgeous because you feel like Sarah Jane is very much a part of it and of who Rani has become later on in life. They still hold onto the life that they all shared together and the love and respect. 'What would [Sarah Jane] do in this situation?' is very much there in the background. I think this is a lovely tribute but also a lovely continuation of her work."
In the same statement from Big Finish, producer Emily Cook teased:
"Rani is following in Sarah Jane's footsteps as a high-achieving investigative journalist who seeks to right wrongs and fight for the truth. She's reunited with her best pal Clyde, along with some other familiar faces, plus the return of wonderful Gita Chandra!
"It's an absolute joy to revisit these beloved characters. They've grown up a bit since we last saw them, and it's great to catch up with where they're at in their lives now. But, at the same time, we've consciously kept the youthful, energetic, vibrant spirit of The Sarah Jane Adventures at its heart."
She went on to say:
"Rani Takes on the World is such a special project to produce. I'm especially excited about this release. It's bursting with heart, humour, friendship, fun, aliens, adventure, life and love. I can't wait to share it with everybody."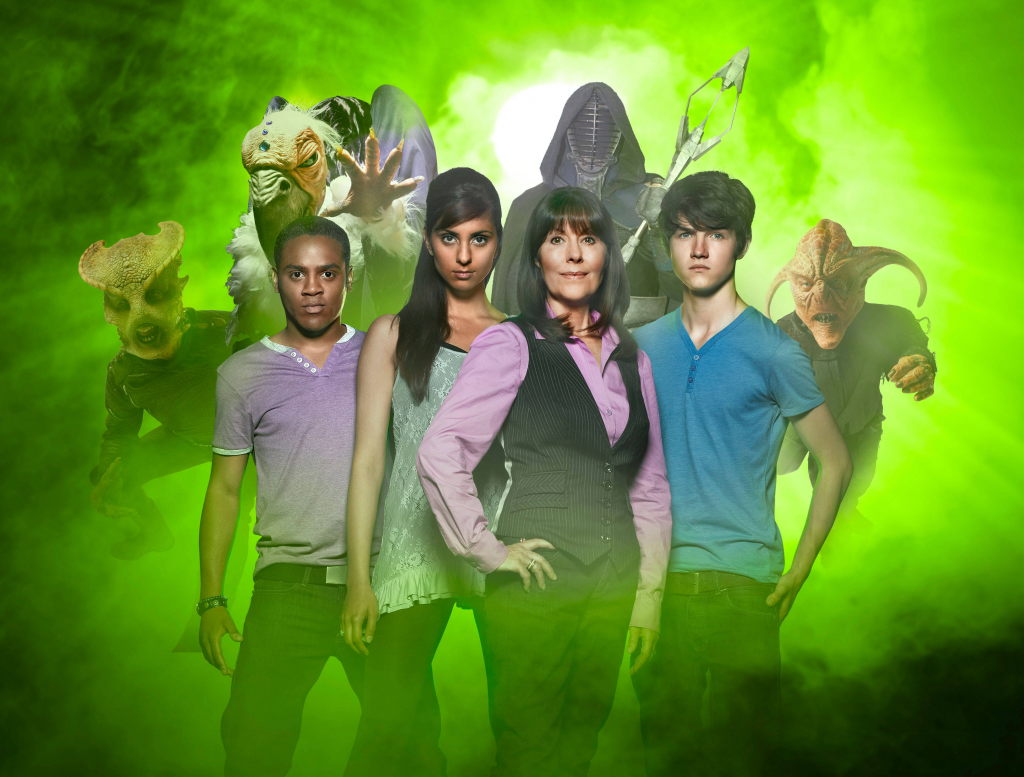 We're thrilled that Rani will return for her 60th anniversary with her own series! Could this possibly pave the way to a live-action return? With Russell T Davies back in charge, anything is possible!
---
More From Nerdgazm
? – Follow Nerdgazm on Twitter
? – Follow Nerdgazm on Facebook
?- Follow Nerdgazm on Instagram