We're back into the world of Games of Thrones. That's what it feels like watching HBO's House of The Dragon for the first time. While many of us might be recovering from the last season, the new series is a breath of fresh air. However, it will remind us of what we loved from the iconic series. House of The Dragon Episode One has launched a new venture based on George R.R. Martin's work, but will it stick the landing?
We're following House Targaryen 200 years before the events of Game of Thrones. The main premise is the succession of King Viserys I Targaryen, played by Paddy Considine. Therefore it will lead to the Targaryen civil war of succession, known as the "Dance of the Dragons". The series is based on portions of the book "Fire & Blood". Episode One aired on August 21st 2022, with the first season consisting of ten episodes overall.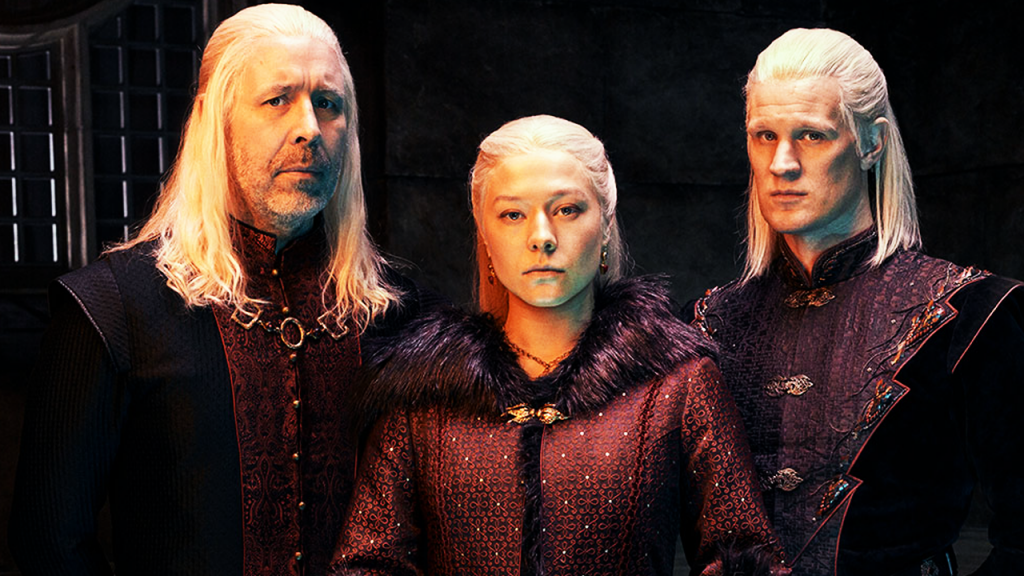 A World Of Ice And Fire
Upon watching House of The Dragon Episode One, we're reintroduced to the world of Game of Thrones. It's like stepping back into the previous series. We're familiar with Kings Landing, home of the Iron Throne. It looks better here and has had a VFX touch-up following its use in GoT. However, here we can see the world is clearly under Targaryen rule. Dragon statues and monuments adorn the walls.
The series does well by immediately getting to the point in episode one. The Great Council of Harrenhall is introduced to us, and the matter of succession is urgent. This is a running theme for the whole series. Who takes over after one King is gone? Of course, this is right back to Game of Thrones. Everyone is playing the game and trying to get to the Iron Throne. It is no different in House of the Dragon. However, this time it is internal inside a house, rather than other houses.
One detail I love is mentioning the houses we already know. Throughout the first episode, we see constant mentions of houses we are familiar with, thanks to Game of Thrones. Such as House Stark and House Baratheon, and we know House Lannister is coming up somewhere. However, House of the Dragon also establishes other, lesser-known houses to the viewer. An example of this is House Hightower. We've heard them mentioned a few times in GoT, but have never seen them.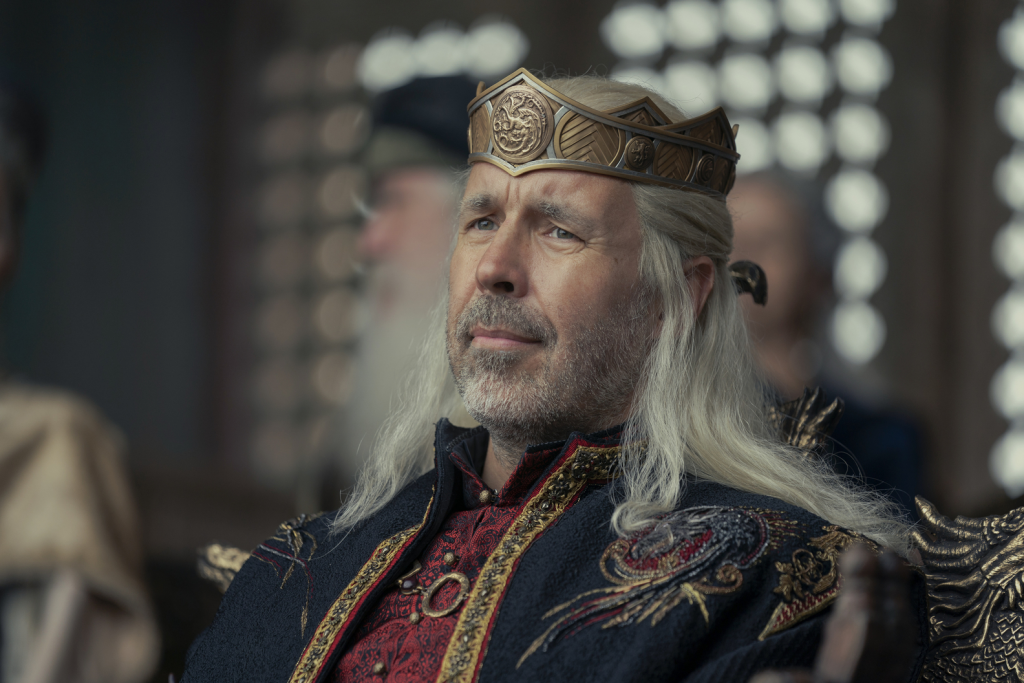 Establishing A Villain
Matt Smith is a dragon riding Targaryen. Who saw that coming? Of course, as with Game of Thrones, you know where this is going if you've read the books. Somewhat, of course. The series is based on portions of Fire & Blood, not a direct copy. Therefore establishing a villain such as Smith's Prince Daemon Targaryen early on is essential. However, this is a Game of Thrones story. We should be expecting violent twists and turns sooner rather than later.
The best thing House of The Dragon Episode One has done so far is not give the game away right now. This would ruin the series in my mind. I'm not that knowledgeable about the Dance of Dragons. Therefore, I am enjoying this series from a fresh perspective. That saying, I can see where elements of this are already going. A war of succession is, of course, coming down the pipeline. House Targaryen avoided that with King Viserys the first time around.
While Daemon might be the obvious character to watch, others have intentions. He is smart to point out to his brother, Viserys, that his small council are not the most loyal. We've got Lord Corlys Velaryon (Steve Toussaint), who is still bitter about his wife's position. Eve Best plays Princess Rhaenys Targaryen, known as "The Queen Who Never Was" as she was passed over in favour of Viserys for succession to the Iron Throne.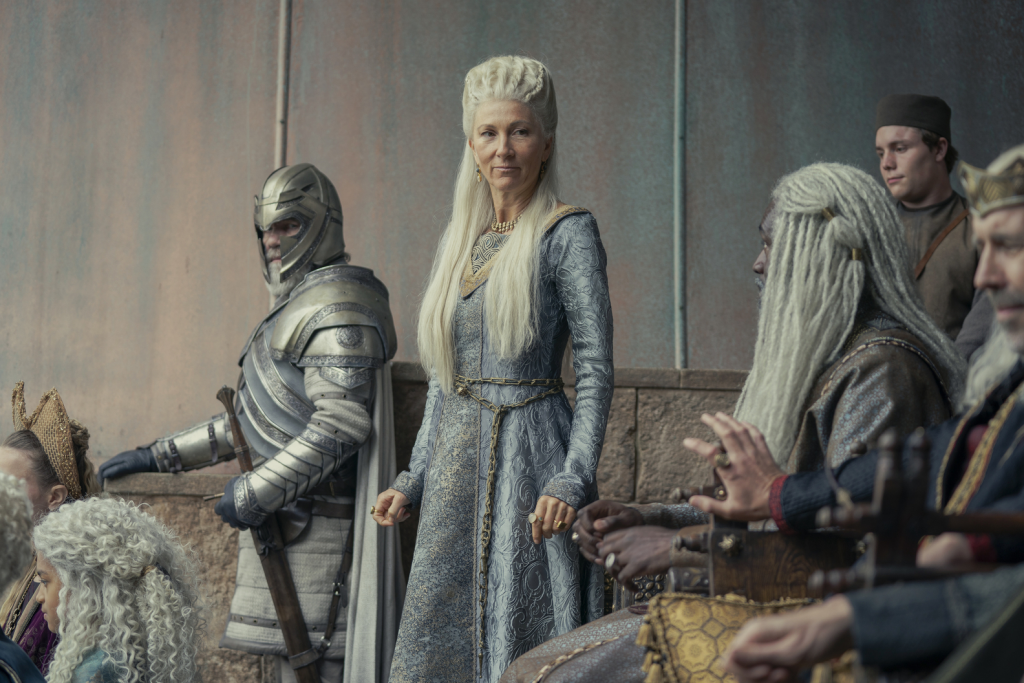 The Succesion
I've got to give credit to Milly Alcock. She plays the role of the young Princess Rhaenyra Targaryen, the firstborn to King Viserys. However, as she is female, she sadly does not have a claim to the Iron Throne. Therefore we see the war of succession already starting. However, this takes a larger turn when Daemon Targaryen is removed as Visery's air.
If House of The Dragon wants to succeed as a series, it will utilize the writing of Game of Thrones. Well, some of that writing. The twists and turns are something viewers now look for. Episode One leaves us at the ending of Rhaenyra Targaryen being announced as the Heir to the Iron Throne. Therefore she'll succeed her father, King Viserys, as Queen of the Seven Kingdoms.
However, we know this isn't the way it will go. As it is pointed out in episode one, no woman has ever sat on the Iron Thone or ruled the seven kingdoms. This is something that still lingers around in Game of Thrones. We all know how well that went in the end. Thanks, Cersi. It's clear that Rhaenyra will be challenged as she rises to succeed her father, but from what corner? Will it be Daemon, Rhaenys, or another great house of Westeros?
Do You Need To Watch Game Of Thrones?
My friend asked me this question this morning. Essentially I'd say no. You do not need to watch Game of Thrones to watch House of The Dragon. Yes, of course, it would help and aid your viewing experience. However, I think the world of HoTD is established enough in the first episode that you can understand what is going on. We're introduced to the ruling House Targaryen. They're currently in a pickle on their future. That's the basic premise when you cut right down to it.
I think to appreciate reference such as House Stark, or the call back to A Song Of Ice And Fire, you'll want to watch the series. But so far. the establishment of Kings Landing and House Targaryen is playing in House of The Dragon's favour. HBO's goal here is to introduce new people to the world of GoT. Therefore this new series has to be inviting to them. I think House of The Dragon Episode One has nailed that so far.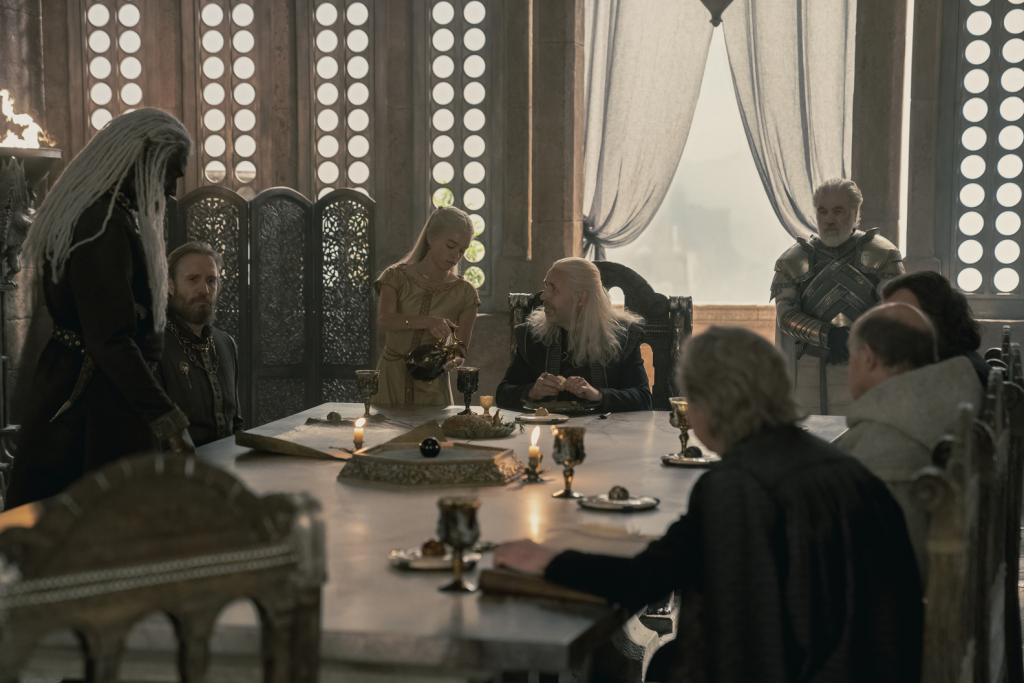 Conclusion
House of The Dragon Episode One is a strong start for the bold new series. It has to live up to Game of Thrones. However, no matter how people think the series ended with its eighth season, the legacy it carries is a bold one. With nine more episodes, I am wondering where the first season of House of the Dragon will go. Surely we've got to end on a big event. Thrones made bold cliffhangers. Will this series do the same?
House of The Dragon airs weekly on Sundays via HBO Max. You can watch via Sky Atlantic at 2 AM on Monday mornings if you're located in the United Kingdom. However, if you're likely asleep, stream the series via NowTV.
---
More From Nerdgazm
? – Follow Nerdgazm on Twitter
? – Follow Nerdgazm on Facebook
?- Follow Nerdgazm on Instagram