Andor Episode 7 successfully manages to reset the stage for what is to come. Following last week's episode's explosive Star Wars heist, we expected Andor Episode 7 to be a filler. However, I think we were all surprised by what this episode offered. We got even more Empire goodness as the ISB prepared to react to what had taken place. Both Genevieve O'Reilly and Stellan Skarsgård excel in their roles once again. However, I think Denise Gough, as Dedra Meero is still one to watch.
Titled "Announcement", it's the seventh episode of the Andor Series. Showrunner Tony Gilroy also revealed that this episode would break away from the normal story arc style of the previous six episodes. Episode 7 was written by Stephen Schiff and directed by Benjamin Caron. Ultimately we're dealing with the repercussions of the Aldahni Heist in this episode. Last week revealed the activities of the early rebellion had already reached Coruscant.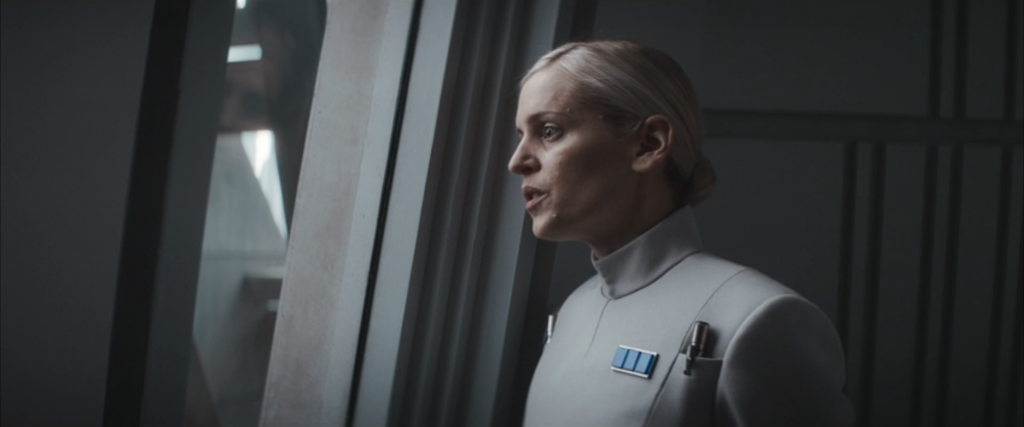 The Empire's Reaction
This episode opens immediately with the Imperial Security Bureau meeting. Now while the meeting is very important and the words mentioned are key to upcoming events, not just in the episode but in the Star Wars Universe, there is another detail. The man who is briefing the meeting seems familiar to some. We can see that he is above Anton Lesser's Major Partagaz.
The character giving the speech to the ISB group is Colonel Yularen. Fans may remember him as Admiral Wulf Yularen, who was assigned to Jedi General Anakin Skywalker in The Clone Wars, personally commanding Skywalker's flagship, the Resolute. Yularen would return to his security roots at the war's end due to his close relationship with Sheev Palpatine. Actor Malcolm Sinclair brings Yularen to live-action and does a fantastic job capturing his mannerisms and way of speaking.
For some time, we theorised he would appear in the series. It's fantastic that Andor is using this connective material as it enhances the world the series takes place. This appearance of Yularen will link to his canonical appearance in the animated Star Wars: Rebels series. He assists Grand Admiral Thrawn in locating a Rebel spy within Imperial Ranks.
The Empire uses the Rebel victory to strike down citizens around the galaxy again. It's almost like the Rebels gave the Empire the perfect justification to put down anything that stands in their way. Yularen also mentions Palpatine. We know they had a close relationship and a long history together. But the key information here is Yularen's mention of the ISB getting even more resources, such as freeing their hands in all matters of surveillance, search and seizure. Yularen's Public Order Resentencing Directive is something that relates to the end of Andor Episode 7 when it comes to biting Cassian Andor (Diego Luna). But we'll explore more of that later on.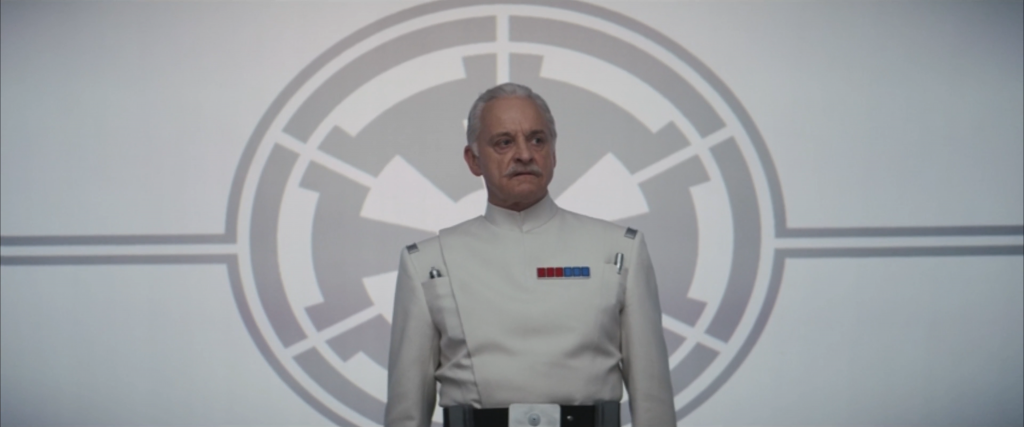 Luthen VS Mon Mothma
The relationship between Luthen Rael and Mon Motham is tested in this episode. It expands and reveals what we've known from previous episodes. It appears that Luthen has betrayed Mon Mothma's trust. Though Luthen's strategy will ultimately work, due to one of Mon Mothma's character flaws is that she is not willing to risk lives to start the Rebellion revolution.
Another Rebel, Saw Gerrera, also had a conflict with Mon Motham and her approach to trying to start the Rebellion. We see elements of this in Rogue One, especially when Admiral Radass decides to take his fleet and fight against Mon Motham's wishes and the Rebel High Command Council. Interestingly, Luthen took this approach, but it makes sense. Time is an ally the Rebellion currently do not have. With the Empire moving ever so fast around the galaxy, they need to make a move sometime soon. Luthen has ensured they can do that.
On the flip side, we see that Mon's plans somewhat worked. Her meeting with a longtime friend, a banker, has yielded some results in obtaining funds for her Rebel activities. Mon's line of "If everyone thinks i am an irritation, they'll miss what i am really doing." Also, she reveals that her husband, Perrin, cannot be trusted. Perhaps this comment might also confirm how Perrin might depart Mon Mothma's life sometime in the future.
During the conversation between Mon and her friend, I've got to commend Nicholas Britell, the composer of Andor. The series soundtrack is fantastic in Andor Episode 7, especially during the conversation with Mon. It amplifies what is taking place in the episode on screen.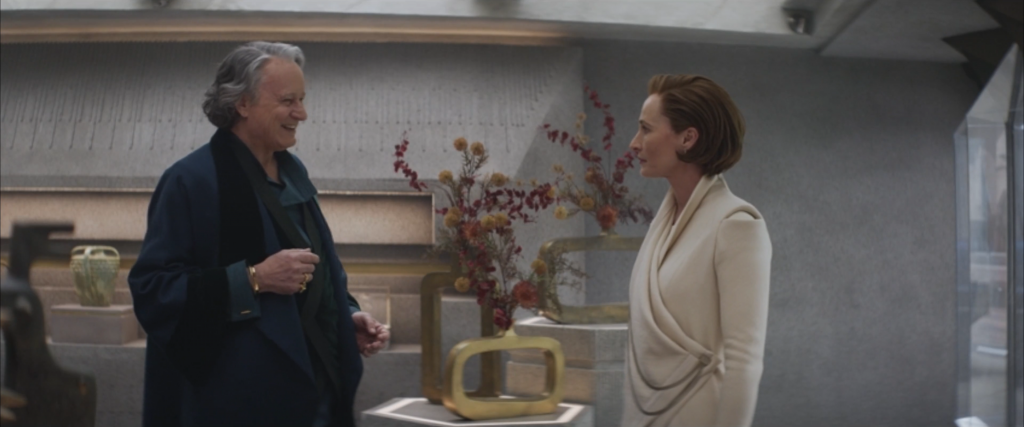 Cintra Is Left Behind
The Star Destroyer's arrival above Cintra and Aldanni has got to be one of the show's best shots. Just the fear that this warship alone commands into the individual citizens below is simply fantastic. Luckily for Cintra, it does appear she is on the escape right now, but her departure from the planet is likely to be stopped by the Empire. Will she manage to get off the planet, and will we learn what she did to the prisoners? This is a topic debated among the Andor fans right now. Therefore I'm interested in your thoughts on what she did.
A line dropped in Andor Episode 7 reveals the Empire has already arrested over 100 Aldahni citizens in response to the Rebel heist. Of course, we know none of the civilians had anything to do with the events. It's just inserted into the episode to show that the Empire does not care and will show force Civilians to get their message of authority and order across.
While Aldahni and Cinta (Varada Sethu) might be a lost cause, Val (Faye Marsay) did escape to Coruscant. We see Luthen's assistant, Kleya Marki (Elizabeth Dulau), meeting up with her on the planet. We also see Stormtroopers, so everyone can stop complaining about them now. I liked how blunt she was towards the deaths of Nemik, Gorn and Tamaryn. However, she does enforce her hard-ass approach when Val asks about Cintra. Kleya has tasked Val with hunting down Cassian Andor due to his connection with Luthen.
The irony is that Cassian wants Luthen to know he held up part of his deal and is done. At the same time, Luthen's faction wants to get rid of Cassian for security, as they don't want anything leaking out. I imagine this will be part of Andor's next Arc of stories. If I had to predict something, it would be Val breaking Cassian out of his new Imperial Prison and therefore needing to choose whether to end his life or not.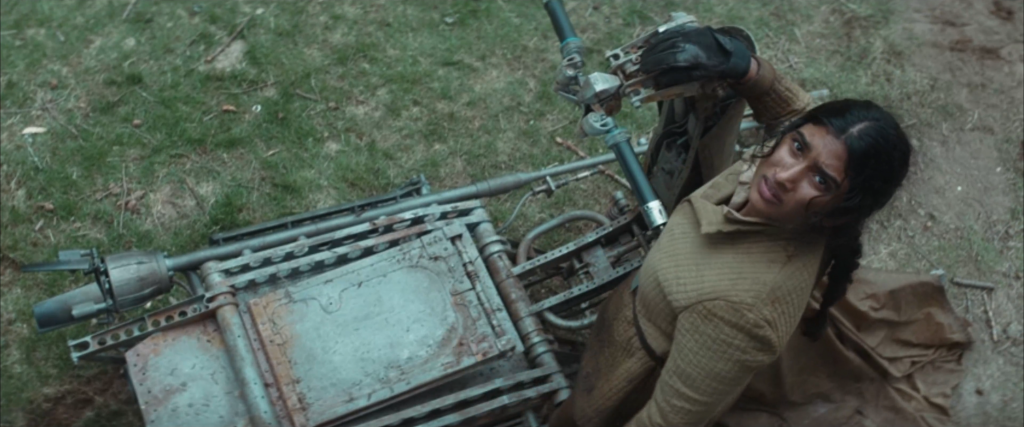 Maarva Andor's Rebellion
Maarva's (Fiona Shaw) Rebellion is an interesting moment in this episode. We see her finally revealing that she is ready to rebel against the Empire. Especially due to the fact her husband was murdered at the hands of Republic Clone Troopers 13 years before the events of the series. Can we take a moment to appreciate more live-action Phase II Clone Troopers in Star Wars? They look fantastic, and I wish we got even more of them. However, we've been treated rather well with this and the Kenobi series.
Cassian wants Maarva to come with him, but she is staying in her home and plans to defy the Empire in any way she can. I imagine this will come to fruition when ISB Agent Deedra Mero visits Ferrix later in the series. Based on the trailers, we know she'll command Death Troopers and Stormtroopers during her visit. Speaking of Meero, she finally got what she wanted. The Molani sector, thanks to a stand-off with Agent Blevin in front of Major Partagaz, of which he warned her to watch her back.
Back to Maarva, a line she delivers perfect is about putting on her best coat and walking through the town square following the news that someone had dealt a crippling blow to the Galactic Empire. Previously she couldn't walk through there due to her remembering that is where her husband, clem, was hung up by Republic Troops.
A detail in Andor Episode 7 still confused me is Maarva mentioning that Cassian's sister is a lost cause to him. Now I personally think this is a red herring. She mentions this to tell him to move on from a lost cause and that there were no survivors on Kenari. What is even more interesting and may hint towards events yet to happen is as Cassian leaves, Maarva picks up a blaster rifle. Likely indicating she will fight the Empire or at least stand up to them.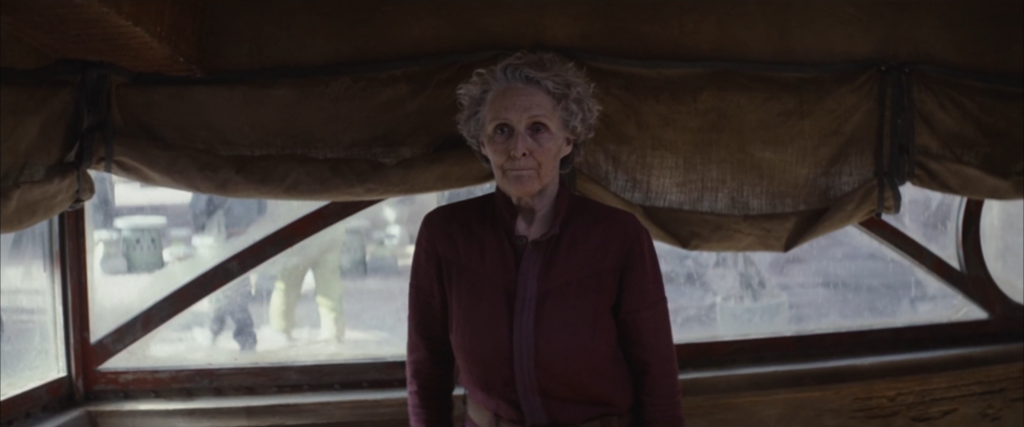 Comfort Prisoners
Cassian ends up on the wrong side of the law simply for being in the wrong place at the wrong time in this episode. Well, he was acting a little shifty and no wonder, especially seeing people being chased by Shore Troopers. This Stormtrooper design appeared in Rogue One: A Star Wars Story, where they were seen guarding the beaches on Scariff around the Imperial Base.
Two details: we see the follow-up from Colonel Yularen's new ISB directives regarding prison time. This follows the Public Order Resentencing Directive, which, as we see the Courtroom Judge saying, the former time was six months, now six years. The Empire is cracking down on every planet and enforcing tougher restrictions on civilians for anti-empire talk and activities. The other detail is K2SO.
I've got to mention Syril Karn (Kyle Soller). We see him take on his new job, which appears to be a Data Entry job on Coruscant, thanks to his uncle. Now, it's clear he is not happy at this from the get-go and dreams of more things down the line. Likely we'll see him soon move towards the ISB and see what he can do from there. Given his keen interest in the news report, I think this is the next logical step for the character.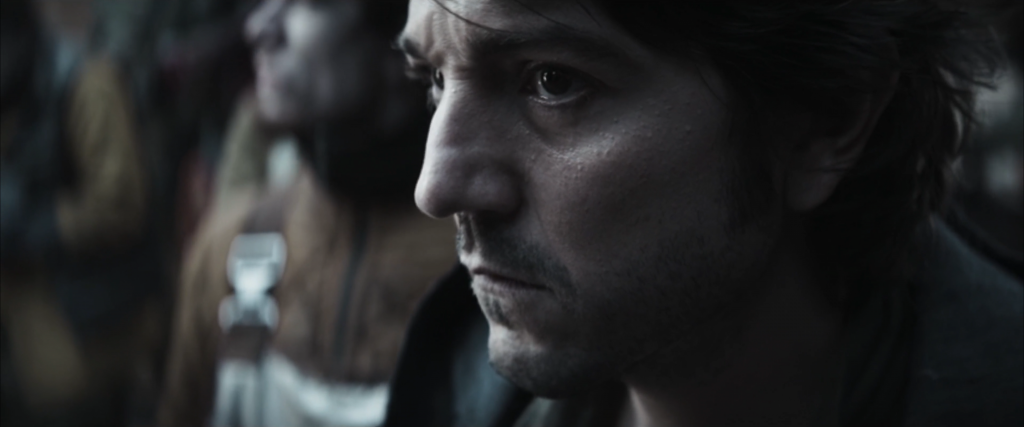 Conclusion
Andor Episode 7 was fantastic! The only thing dragging down parts of this episode might be Syril Karn's storyline. However, character development is needed for him. We couldn't just leave him out near Ferrix and then pick him up sometime later in the season. It looks like Karn will be returning for Andor's second season. Therefore, development in this first season is needed right now.
Having Andor expand the world of the Galactic Empire is something that the series is doing rather well. While the Rebels had a victory in the money heist, ultimately, it cost the galaxy more freedom. Mon Motham is correct. Luthen may have no idea what sort of fire he has started. I'm enjoying their relationship being fleshed out even more, though I would like to learn how they met in the first place.
Personally, I think the ending of this episode is a political message. It feels, unfortunately, very real with current events around the world. Cassian gets arrested because someone is rather bored and has power. This costs him his freedom, all for doing nothing wrong. If he were normal, this would ruin his life. Tony Gilroy and his creative staff appear to be making that statement here, intended or not.
Ultimately this episode has me looking forward to what is coming next down the Andor episode pipeline. Seeing the whole cast in this episode worked well, and I can't wait to see Luthen's next move and more of the Imperial crackdown. For a series that is focused on one character, it's very much interested in expanding the world around it.
---
More From Nerdgazm
? – Follow Nerdgazm on Twitter
? – Follow Nerdgazm on Facebook
?- Follow Nerdgazm on Instagram