Finally, the Andor person break sequence has arrived! This episode is filled with tension, political intrigue and good old fashion spy meetings. Just how we like it. However, with only two episodes left in the first season of Andor, what are we left with? Our Star Wars Andor Episode 10 Review focuses on the prison break and the other side of the series.
Titled "One Way Out", episode Ten is directed by Toby Haynes and written by Beau Willimon. It's the last in the Prison Arc for Season one of Andor. As such, we've been expecting this prison break sequence for some time now. The latest episode is called "One Way Out". Now, this doesn't only apply to Cassian's (Diego Luna) prison situation but even to Mon Mothma (Genevieve O'Reilly), who is given only one way out from her current situation.
Mon Mothma Is Trapped
So, as we heard last time, Mon Mothma needs to meet with a thug to "paper" over some discrepancies in her transaction log. Additionally, she needs to get a loan of 400,000 credits. To make sure no Imperial auditor might notice what she is doing with her foundation along with Tay Kolma (Ben Miles). And it seems like the price for this is too much, as this thug wants to get their children acquainted with each other as the price for a loan to Mothma.

Mon now has an impossible situation to contend with. Is she willing to sacrifice even her daughter for her cause? However, going on from this is she willing to sacrifice her own daughter to keep herself out of harm's way. Not a good situation, and we don't know 100% how it will turn out. Mothma still has a few years until she actively leaves the senate. Therefore, considering she continues there, surely that means she has given up her daughter. Or perhaps she might find a way to get the deposit without that.
Luthen's Rebel Network
As we expected, Luthen (Stellan Skarsgård) and his network have had a man on the inside of the Imperial Security Bureau. They only made contact with him a year ago. However, this ISB Supervisor has been working his way up for at least for six years, based on the conversation we watched. It was indeed Lonni Jung (Robert Emms), the young officer who works across from Dedra Mero (Denise Gough).
Lonni does get cold feet, wanting to call this situation off. Now having a daughter and not want to be too involved in this Rebellion. However, he gives Luthen a good farewell basket of intel. An example of this is Dedra Meero focusing on "Axis", to the ISB knowing about the attack on Spellhaus.
Back to our meeting between Luthen and Jung, now obviously Luthen doesn't take this lying down that Jung wants to retire from his role as double agent, with Luthen even at the beginning of their conversation making an indirect threat against Jung's daughter. But what is so amazing is that when Jung asks Luthen what he has sacrificed, we get such an amazing monologue from Luthen I will call the "Luthen Sacrifice" Speech.
An interesting part of the speech is that Luthen talks about "An equation 15 years ago" relating to the founding of the empire 14 years ago to Andor. So it seems like Luthen started this crusade against the empire as soon as it was founded, understanding that it was an oppressive authoritarian regime that he knew was not good news.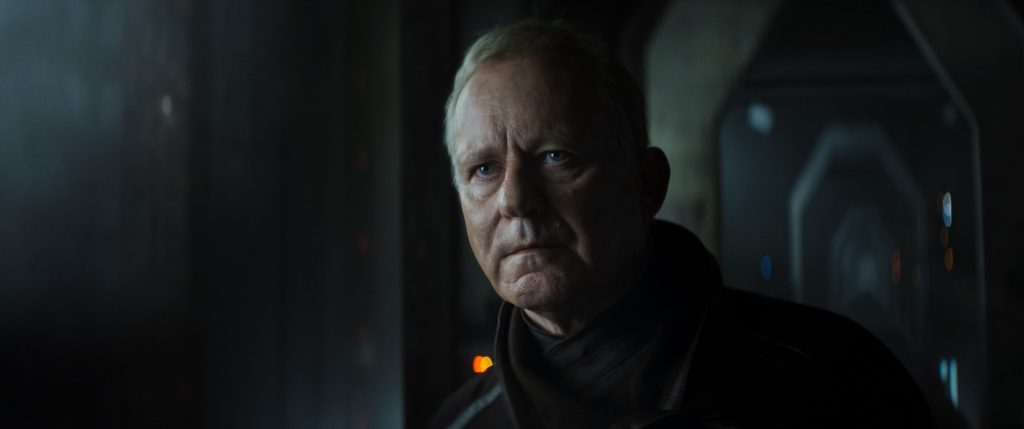 Andor's Slow Formation
Luthen has been forming his network and the early foundation of the empire since then, probably getting involved with Mon Mothma and Bail Organa (Jimmy Smits) at an early stage.

And Luthen has links with numerous rebel cells. Additionally, he has stolen an entire Imperial sector payroll and numerous pieces of tech from the Empire. He has to fight the empire with its weapons and techniques. This is said with disgust in his speech. He no longer has the luxury to do anything else, one of the things he has sacrificed, and the mind of one ISB Officer getting cold feet is nothing compared to his sacrifice.

Luthen is even willing to sacrifice Anto Kreegyr. Additionally, his 50 men's strong force in the attack on Spellhaus. Therefore, to make sure that the ISB doesn't know that he has a man on the inside. Luthen knows what is at stake and is willing to pay these prices. It'll be interesting to see if he has any role in helping Cassian and Melshi (Duncan Pow) get off their planet, but I guess we will have to keep watching to find out.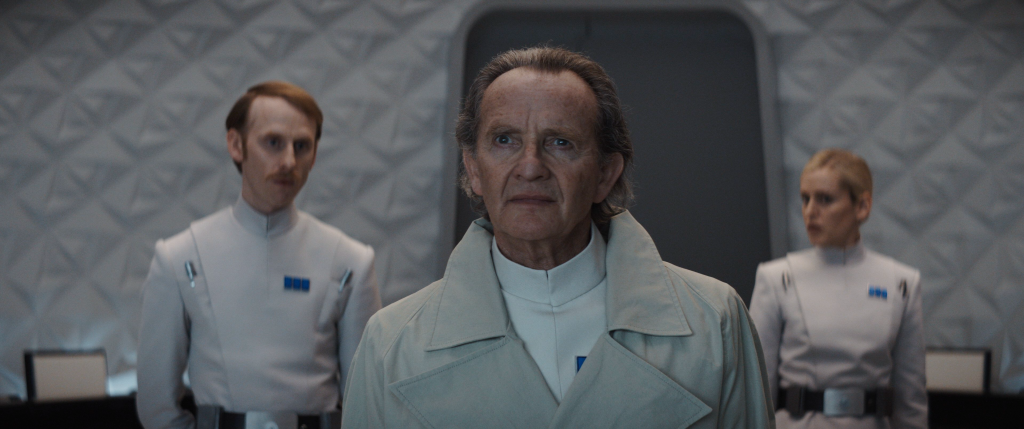 Final Thoughts
I've got to commend the tension in Andor Episode 10. At the same time, Cassian and Kino (Andy Serkis) lead the prison riot. You can feel the tension between what is going on and what the events are leading to. The soundtrack amplifies this. Nicholas Brittel's scores were super well placed during key moments of this episode. Even the tracks during Luthen's conversation work well. Luckily for us, the soundtrack is being released in waves on platforms such as Spotify right now.
Overall, while the prison break scenes of this episode were interesting, the rest felt a little bit out of place. Luthen's conversation with ISB Agent Jung felt tacked onto the end. As such, the episode's tension falls off when we cut to Cassian and Melshi running around on the prison planet. We're still left with questions, which isn't a bad thing. However, this is the end of this arc of episodes. Have we only got two episodes left now? This is building towards a very big potential two-part finale for Andor.
We still have some footage from trailers that we have yet to see. Such as Cassian flying the Fondor Haulcraft of Luthen's against some Tie Fighters and an Imperial Arrestor cruiser. Therefore, perhaps Luthen does learn that Cassian is on Narkina 5 and goes and picks him up but is incapacitated in some way so Cassian has to fly his ship. I guess we will find out, but it looks like we will have some space combat scenes in the next two episodes, at the very least, which I am excited to get.
---
More From Nerdgazm
? – Follow Nerdgazm on Twitter
? – Follow Nerdgazm on Facebook
?- Follow Nerdgazm on Instagram