We're at the halfway point for HBO's House of The Dragon. I've got to say the opening to this episode alone sets up where we are going. The series is exceeding well right now. However, does the series still have the strength to carry on? House of The Dragon Episode 5 proves that it does. The episode's title, "We Light The Way", refers to the motto of House Hightower.
Much like episodes three and four showed us, there are growing political issues. Also, we're dealing with the fall of King Visery's Targaryen (Paddy Considine). We're introduced to Daemon Targaryen's (Matt Smith) wife in Episode 5. However, Lady Rhea Royce does not last long, being taken out of the picture by Daemon.
An Unwelcome Marriage
House of The Dragon Episode 5 deals with the marriage of Princess Rhaenyra Targaryen (Milly Alcock). It's a matter that we've had shown to ourselves many times now. However, I have enjoyed the way HoTD has handled it. Some marriages in Game of Thrones felt like they have pushed along too quickly. At the same time, Rhaenyra's one had been handled with care. Well, in a sense, as it is an arranged marriage with its complications.
There are complications. This is a Thrones series. Nothing goes to plan. The future King Consort of the Iron Throne has his own acquired taste. This is one of the rare gay characters in the show. It's rare as homosexual activities were not accepted in Westeros. I'm hoping this aspect is covered a bit more in the show. We explored it a little bit with Renly Baratheon in Game of Thrones.
In Thrones fashion, the gay character gets killed in the episode. Look, I understand homosexual activity is not the done thing in Westeros, but come on now. Can we not kill the gay characters as soon as we introduce them? I'm hoping we'll still explore Laenor Velyaryon (Theo Nate) more in the series. But right now, I'm not hopeful about that.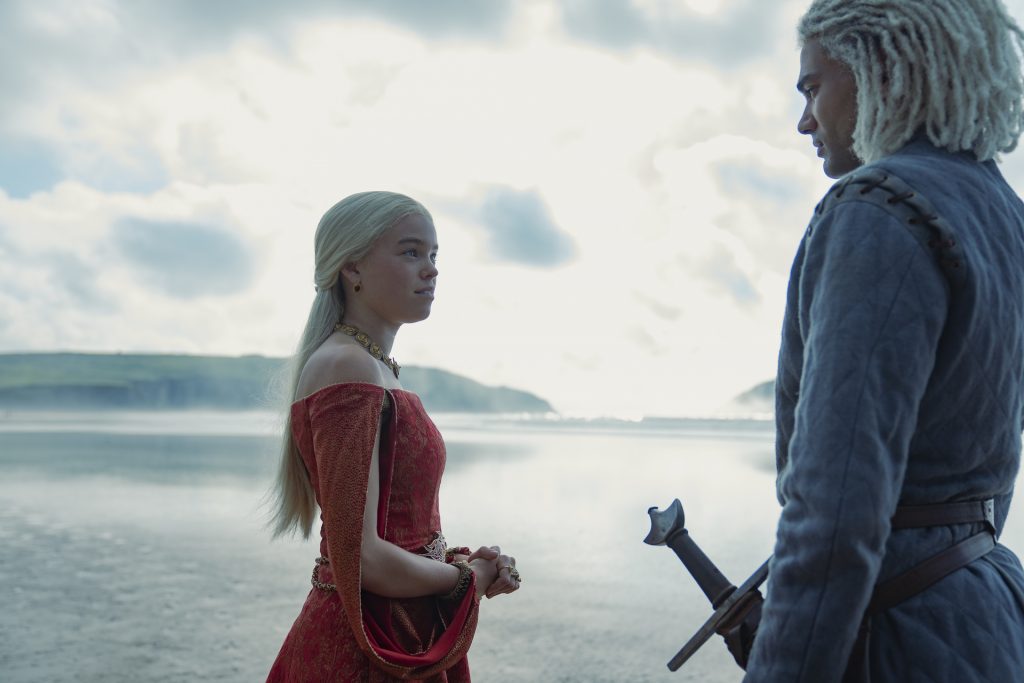 A Broken Oath
I'm going to be honest. The Ser Criston Cole scene on the boat was annoying. Yes, we slept with the Princess, but did he expect her to run off and marry him? Fabien Frankel is a fantastic actor, yet I do feel like the writing given to him during this segment has let him down a little. However, his conversation with Queen Alicent Hightower (Emily Carey) goes a little bit better.
Now what some would not have expected is Cole giving up his secret. He openly admits to the Queen how he has broken his oath. However, I felt that the conversation was a little confusing here. Maybe it was the writing again. It looks like Alicent is asking about Daemon, and Cole presumes it's about himself and jumps the gun. You'd presume he would know about the Daemon rumours.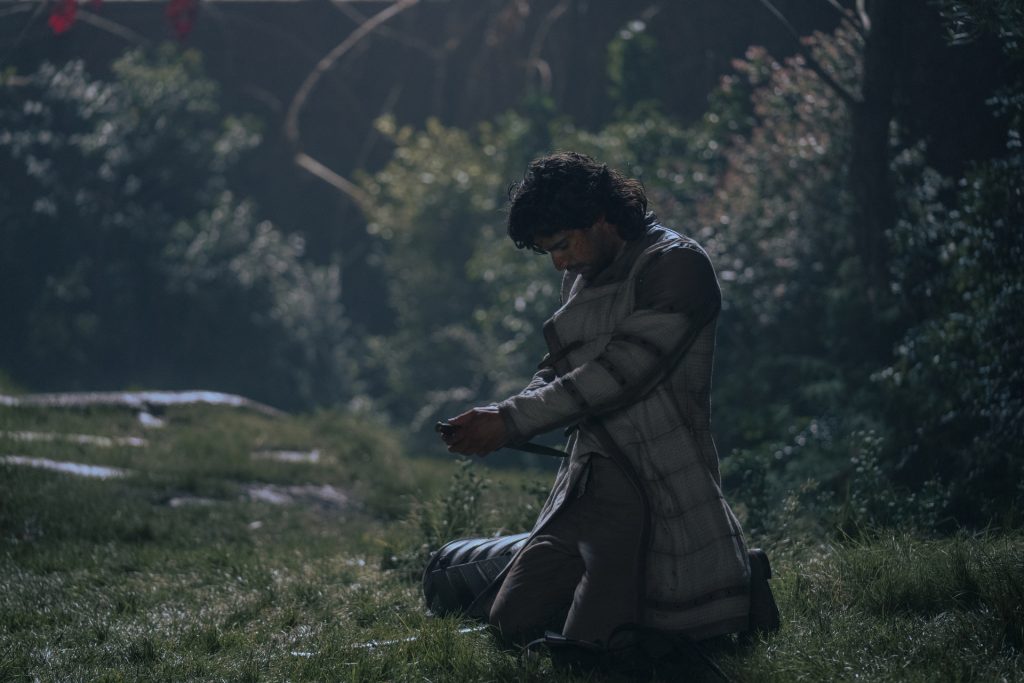 The Royal Wedding
Alrighty, a wedding in Westeros. You know something is going to happen. The wedding takes so many jolts even before it begins. An example of this is Alicent's entrance. Larys Strong (Mattew Needham) points out the detail on Alicent, which might give the game away. Her colours match the same colour that Hightower uses to make for war. Perhaps a hint at what is to come. Otto Hightower (Rhys Ifan) has already clarified his position.
Daemon Targaryen's arrival certainly stirred up drama at the pre-wedding feast. Additionally how he tormented the cousin of the late Lady Royce as well. I'm also keen to see if anyone else caught Lord Lannister's remarks about Rhaenyra Targaryen, which didn't land well. Then again, we know the Lannisters. They are cunning people. Also, he's still pissed off at being rejected in episode three.
Naturally, it all kicks off when Ser Criston Cole beats up Joffrey. Well, I say beats up, more like kills the poor man, all because he taunts Criston over the fact he cannot have Rhaenyra. It's a good bit of attention that no one did expect in the episode. We should have been expecting this because this is a Game of Thrones wedding at the end of the day.
The Fall of The Crown
King Viserys falls over twice, I think, in this episode. Given there isn't much of a time jump between episodes four and five, it shows that his condition is worsening right now. I feel that next week's episode six will show the passing of the King and the war for succession. I love the sense of political unease that is being generated.
Seeing Eve Best as Rhaenys Targaryen is something we've been looking forward too. Sure, we got glimpses of her in previous episodes. However, Episode 5 finally gave her more to do and say. Not just pushed away to the sidelines. Yes, these characters need to be set up, but it sometimes feels a little too crowded.
House of The Dragon Episode 5 nails the changing of the guard. What I mean by this is times are changing for House Targaryen. King Viserys is getting worse daily, so Rhaenys Targaryen's claim is about to be challenged.
Conclusion
Overall a great episode! It's a shame that House of The Dragon Episode 5 is the last time we'll see Milly Alcock and Emily Carey in their roles. However, we'll be seeing Emma D'Arcy take over the role of Adult Princess Rhaenyra Targaryen in Episode 6 onward. Additionally, Olivia Cooke will take over as Queen Alicent Hightower onwards.
---
More From Nerdgazm
? – Follow Nerdgazm on Twitter
? – Follow Nerdgazm on Facebook
?- Follow Nerdgazm on Instagram