We're lucky as The Last of Us Episode 5 streamed early! Thanks to the Super Bowl, HBO and NowTV decided to bring forward the airdate for The Last of Us. Thankfully, that means we can talk about it earlier. However, it does mean we'll need to wait until another episode of the series. With each passing week, we're treated to another outstanding episode. I am enjoying each episode of this series. As someone who has not properly played the video game, this series serves as my introduction to the world of The Last of Us.
Emotional damage, after emotional damage, is what this show gives me. If Episode 3 of The Last of Us was not enough, parts of this episode really hammer home family and relationships. We are used to the dynamic with Joel (Pedro Pascal) and Ellie (Bella Ramsey), and now we have another pair. However, we're also seeing other elements of the world. The ending of the episode seals the deal.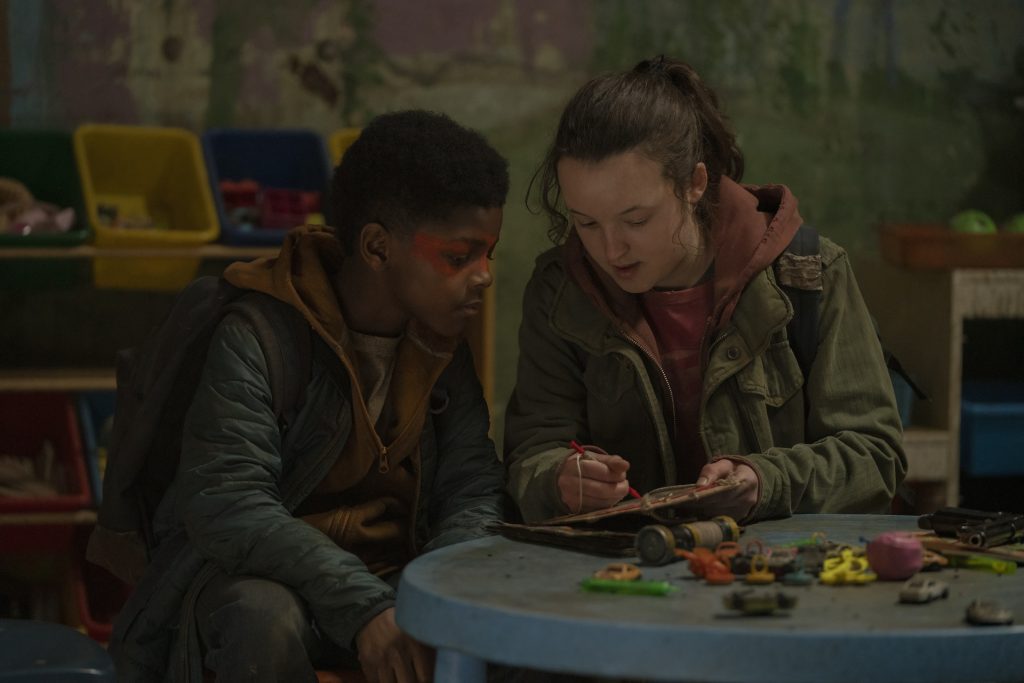 The Resistance Is Alive
One of my wishes from last week was to see what happened in Kansas City. We were introduced to a quarantine zone collapsed. Therefore, how did the people rebel against the government and turn it into this war-torn area? Thankfully, The Last of Us Episode 5 gives us this introduction. The opening also served to set up Kathleen as this ruthless leader. Thanks to the previous episode, we already knew how ruthless she could be. Still, Melanie Lynskey takes the spotlight with this role. As a villain, it's hard to understand her motivations. But her dialogue is written so well.
Lamar Johnson stars as Henry in this episode. Technically the previous episode was his introduction, as he appears at the end. However, this episode is where we meet him and somewhat understand what is happening. He's on the run from Kathleen with his little brother, Sam (Keivonn Montreal Woodard). Thankfully the episode catches us up to the events of last week. We see Joel and Ellie's ambush from Henry's point of view. Therefore, the nearly 20-minute intro keeps us updated on what is happening. Personally, I thought it would take less time.
The dynamic between Henry and Joel is decided immediately. While there is a brief gun to the head moment, it's resolved quickly, or so we think. Tensions are still high, though. However, it's not explained right away why Henry is the most hunted man around. It's made clear that he is a collaborator with FEDRA. This is the now overthrown government agency in Kansas City. However, I struggled to see why Kathleen wanted him specifically right away. How much damage could one man and a kid actually do? This is explained in the episode, and it somewhat makes sense.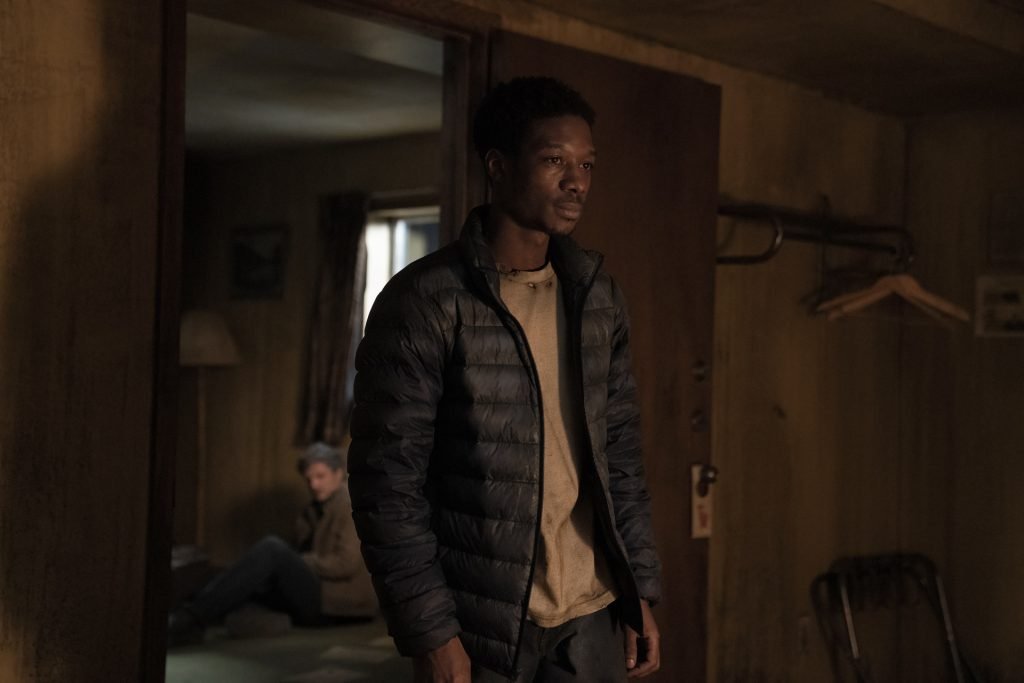 The Great Escape
The Last of Us Episode 5 seems to revolve around escaping Kansas City. However, while the focus is escaping, the episode captures the horror dynamic well. It's something The Last of Us series excels at. This is keeping viewers on edge and gripping their seats. I find myself constantly wondering what will happen next in these episodes. While the crew move to the lower levels, you get this feeling something will creep out of the woodwork. The score and writing allow the tension to remain high.
The escape also provides us with time for reflection. Finally, a moment I have been waiting for happens. It's a somewhat cliche line of "you were someones father". Joel has been reminded of Sarah a few times, but I think this is a direct time he's told. Pedro Pascal manages to convey what Joel is thinking perfectly. Though on the flip side to this, it does appear that, once again, Joel does not want to confront what has actually happened. However, he has had 20 years to deal with his.
Finally, the resistance catching up to our crew kept me on the edge of my seat. However, you've got to question their tactics. For a heavily armed militia, they did not have plot armour on their sides. However, I was not expecting all hell to break loose. It was teased in the other episode that Kathleen and Pierce knew something was up, yet here we see what is going on. Additionally, this is the TV show's introduction of the Bloater.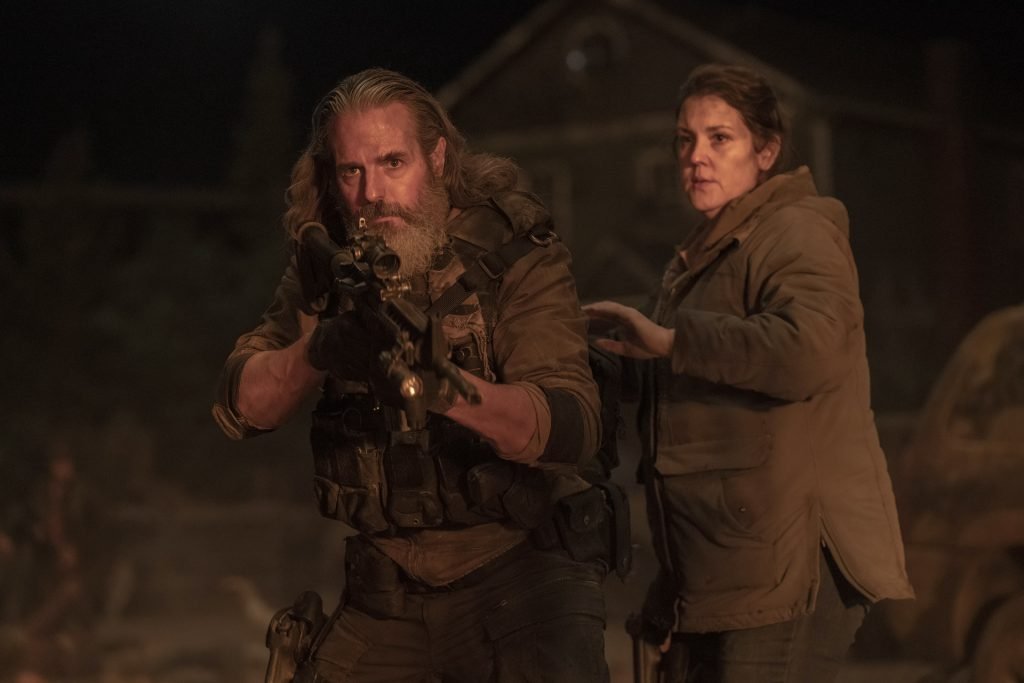 Conclusion
The Last of Us Episode 5 keeps tensions high while still telling the story we are here for. While some might see this episode as filler, I would disagree. It tells a genuine story set in The Last of Us universe. While the previous episode set up some of the stakes, this episode resolves them rather well. It's also a chance for us to see the introduction of another Infected type from the video games. The art department has done exceptionally well in bringing these characters to life. However, ultimately, we see that while Joel and Ellie's efforts did well. The infection ultimately wins in The Last of Us.
The nine-episode first season of the HBO Original drama series The Last of Us Premiere debuted on Sunday, January 15th at 9:00 p.m. ET/PT on HBO and is available to stream in 4K on HBO Max. However, the series streams in the United Kingdom via Sky Atlantic and NowTV from January 16th 2023. The series also airs on Crave in Canada, Binge in Australia and Neon in New Zealand.
---
More From Nerdgazm
🚨 – Everything We Know About Damon Lindelof's Star Wars Film
🔥 – HALO Series Season 2 Filming With New Cast
📝 – Star Wars: The bad Batch Season 2 Returns With Premiere Episodes