Let's be honest, we're all excited at the return of David Tennant. He'll be joined by actress Catherine Tate for the upcoming 60th Anniversary of Doctor Who. Additionally, Russell T Davies is returning as the next showrunner. He succeeds Chris Chibnall as the current showrunner for the longstanding franchise. However, how did these two characters end up back on-screen? Also, was announcing it ahead of time the right thing? Lucky for us the Doctor Who Showrunner Talks David Tennant & Catherine Tate Return!
Incoming showrunner Russell T Davies penned an entry into the Official Doctor Who Magazine. As he was previously a frequent contributor to the magazine, it's not surprising to see him return. Titled "Gettig The Band Back Together", the article gives a bit of insight into the decision process he and his team have taken. This comes down to the press releases for Tennant and Tate, as well as Ncuti Gatwa. However, are there clues hidden in here?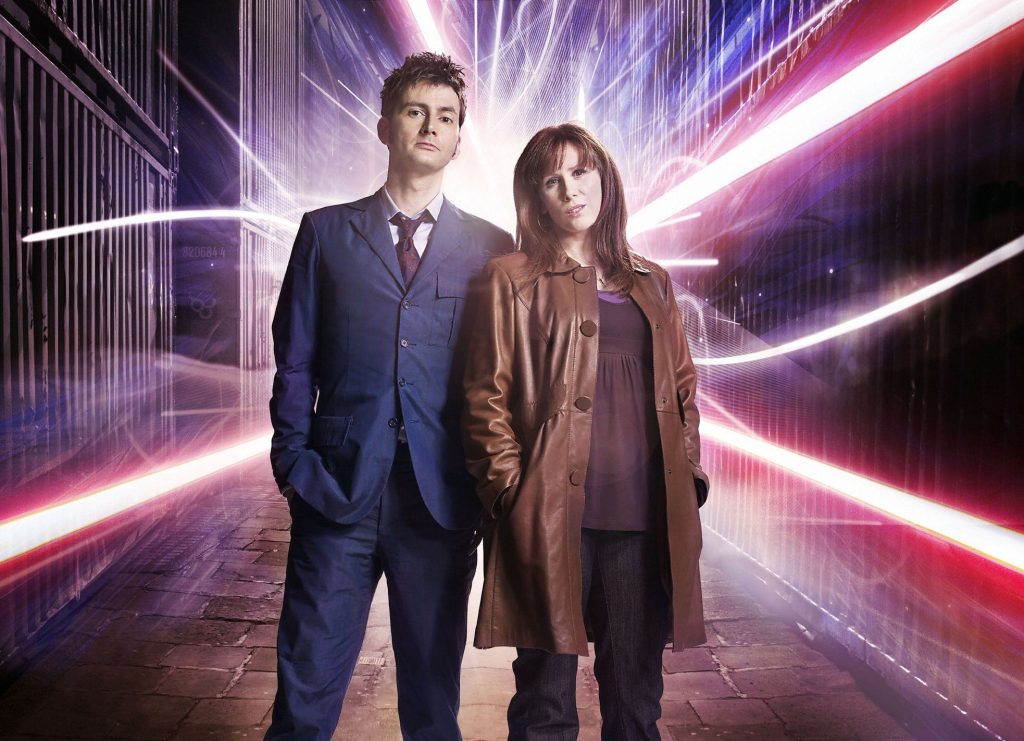 Partners In Crime
Yes, both David Tennant and Catherine Tate are back in Doctor Who! Fans are ecstatic at the return of the pair. However, this also took Davies by surprise, who admits he was even surprised by the announcement making national news. Additionally, Davies does admit that there is still so much to tell fans about what is coming up. However as he has mentioned before, it's time to "shut up". Russell has previously gone on record saying he did not want to detract from Jodie Whittaker's upcoming last episode of Doctor Who.
How the hell can the Doctorand Donna be reunited? You're sci-fi fans, you know the score, there are all sorts of possibiites ahead."

Russell T Davies (Doctor Who Magazine Issue 579)
Many fans are wondering how both the Doctor and Donna can be working again. When David Tennant's 10th Doctor last left Donna, she did not remember who he was or what she had been through due to a memory wipe. This was done to ensure her mind would not overload due to the Time Lord-Human Meta-crisis. As such, Donna could no longer remember anything about the Doctor. However, how does this tie into what we know is coming up? Russell offers a hint to fans' questions…
A Cryptic Tease..
Then again, maybe, just maybe, this return is so impossible that it;s actually an introcate ilusion created by an old enemy of the Doctor's. or maybe an old enemy of Donn's. Nerys!

Russell T Davies (Doctor Who Magazine Issue 579)
Yes, if you get the joke Davies makes in that quote, well done. However, we're more interested in what could be a cryptic hint to what is going on in the upcoming Doctor Who 60th Anniversary special. Many fans have speculated that Neil Patrick Harris's character is the key to the Doctor and Donna being together again. While he might not be the direct key or link, he perhaps is playing a game with his toys. Yes, many believe Harris is playing "The Toymaker". A very old villain of past the Doctors. So, Doctor Who Showrunner Talks David Tennant & Catherine Tate Return!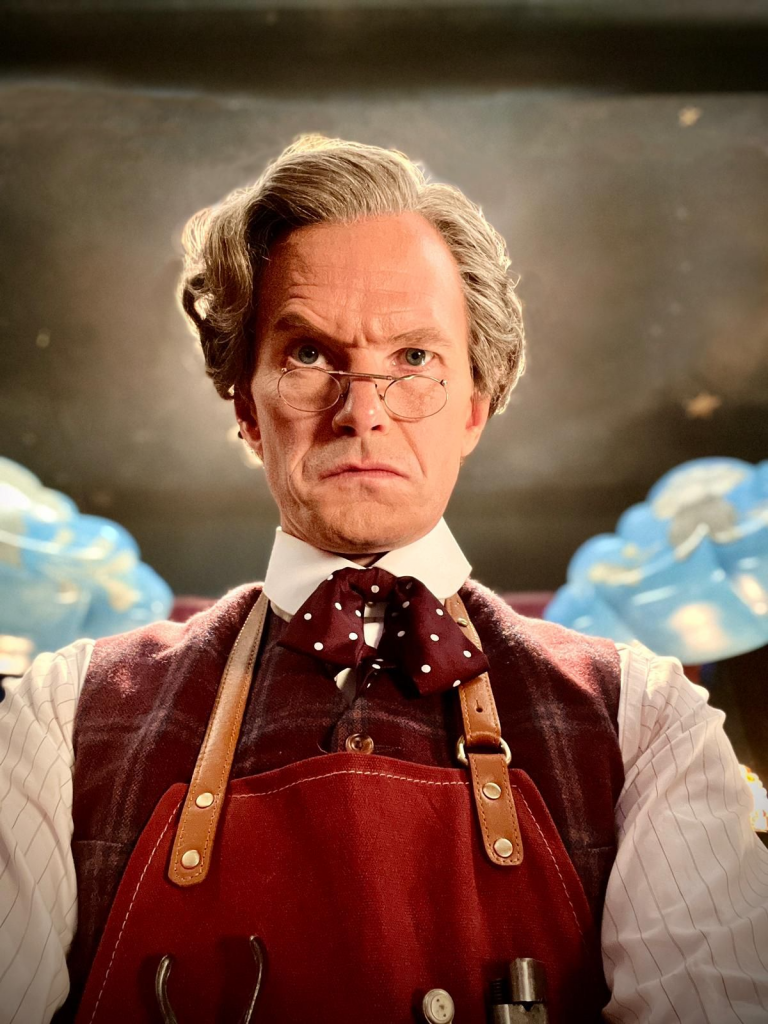 Returning Monsters!
At the time of the Doctor Who Magazine writing, the shooting for Cardiff was scheduled. This was an on-location shoot on Axminster Road in Cardiff. Now, many fans flocked to watch the nighttime shoots for the upcoming Doctor Who content. As Russell admits in the article, there is no way they can deny things sometimes or try and hide them.
At the time of writing, we're six days away from a night shoot in Cardiff in which some monsters might be glimpsed."

Russell T Davies (Doctor Who Magazine Issue 579)
Mysterious Doctor Who monsters have been spotted on set. When I say mysterious, we really mean it. Additionally, some of these aliens have made national news. We've had both Wrath Warriors, but also Meeps? Well, perhaps specifically "Beep The Meep". The likes of which have had RadioTimes and The Daily Mail reporting on. Fans spotted these alien creatures facing off against UNIT soldiers on the streets of Cardiff.
Doctor Who Denial or Acceptance
Davies's article touches on the press release for Doctor Who. While many have been excited to hear that Tennant and Tate are returning, others have criticised the decision to reveal the surprise. Mainly because it does ruin the surprise of these long-standing characters coming back. Russell does comment on this during his article, essentially addressing fan concerns directly. This is fantastic to hear.
And yes, I know, some of you wish there'd been no press release at all. I recognise that, I promise you. Yes, we all wish these events could arrive on screen as a complete surprise, shocking all viewers at once. I wish.

Russell T Davies (Doctor Who Magazine Issue 579)
Doctor Who filming is always going to attract a large crowd of people. Last week, Bristol saw Doctor Who fans massing in the city centre to catch a glimpse of David Tennant, Catherine Tate and Neil Patrick Harris. Many stood watching for 6 hours+ to see the action. Russell has acknowledged that due to the success of Doctor Who, they "wouldn't swap for anything".
The Right Decision
Comparing shooting to Marvel and Spider-Man: Ho Way Home, Davies acknowledges they could have denied what was being spotted publically. However, Marvel is a vast studio with a lot of power to do so. Additionally, the BBC is a public service broadcaster. As such there's a genuine debate about how much it could actually deny the visible truth. Davies asks fans to trust himself and the team that they made the right move.
So, trust us, we made the right move. We had to own the moment, and make the best of it. We decided to celebrate this magnificant return, instead of seeing it spoilt by bad photos and gossip.

Russell T Davies (Doctor Who Magazine Issue 579)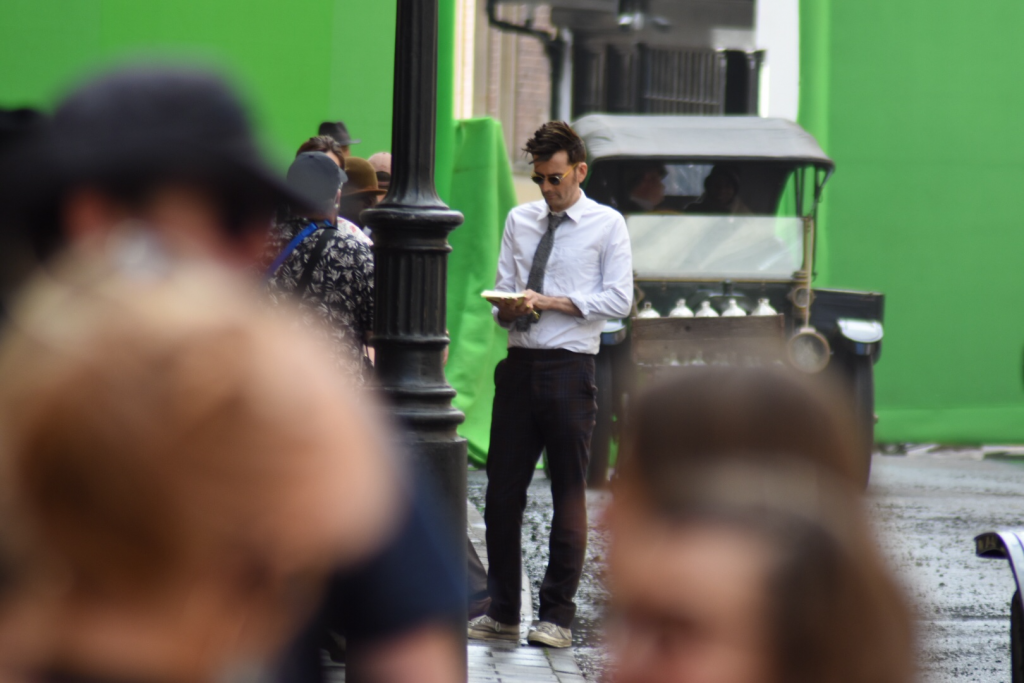 Conclusion
It's clear the fandom and very excited for both the return of David Tennant and Catherine Tate, as well as Russell T Davies. However, you've got to respect Davies for his excitement and treatment of the upcoming BBC Centenary Special for Doctor Who. The special will see the edit of Jodie Whittaker as the 13th Doctor. Davies teased that while promotion of the special is little, fans have no idea what is to come yet.
How much do you know about that finale? Nothing! oh, you got a glimpse or two in the preview at Easter, but belive me, you know so little. Get set to be rocked."

Russell T Davies (Doctor Who Magazine Issue 579)
Doctor Who Showrunner Talks David Tennant & Catherine Tate Return! Issue #579 of the Official Doctor Who Magazine is out now! While all eyes for us are on the Russell T Davies interview, there are plenty of other bits for Whovians to read. Additionally, Doctor Who Redacted, from BBC Sounds gets a good chunk of the magazine dedicated to it. Including June Dawson and Ella Watts talking! The magazine is available from PocketMags for £5.99 digitally and in print at all good stores.
---
More From Nerdgazm
? – Follow Nerdgazm on Twitter
? – Follow Nerdgazm on Facebook
?- Follow Nerdgazm on Instagram