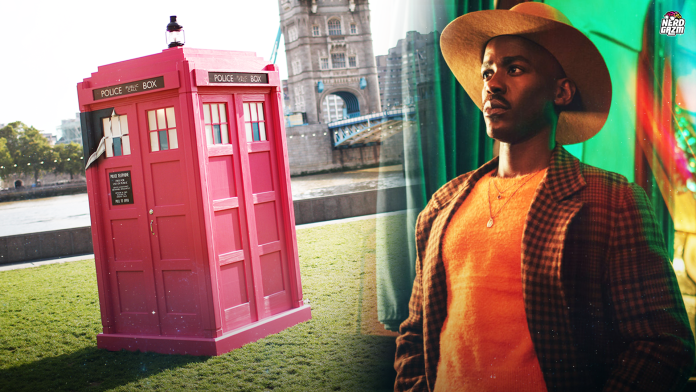 Doctor Who fans were in for a surprise when the iconic blue TARDIS was painted pink, standing out against the London skyline. The Barbie movie, which stars incoming Doctor Who actor Ncuti Gatwa, has partnered with Warner Bros to create a promotional campaign that features Doctor Who's TARDIS in pink! The TARDIS appeared next to Tower Bridge on Tuesday, July 11. However, it's undergone a hot pink paint job, with a small section of that familiar blue uncovered. The event is to promote the Barbie movie's European premiere.
Doctor Who's TARDIS has taken the internet by storm. Fans of Doctor Who and Barbie are sharing pictures of the installation on social media. A sign next to the "hot pink" time machine read: "Warner Bros is currently filming for a promotional and publicity campaign for "Barbie"." It warned that passersby consented to be filmed by being in the area and should leave immediately if they don't want to be part of Barbie's promotional video. Fans have been sharing pictures of the installation. One fan wrote: 'I love it so much, it's perfect.'
London Goes Pink For Barbie Movie
Warner Bros Pictures has transformed London's iconic buses and black cabs with full wraps advertising the Barbie movie. The film's stars, Margot Robbie and Ryan Gosling, are featured on the wraps, along with pictures from the movie. Additionally, posters have also been displayed on billboards and at subway stations. Today, fans can visit Doctor Who's TARDIS at Tower Bridge, London.
The Barbie movie has turned London pink. The film's cast lighting up the city's landmarks in pink on Wednesday in preparation for the film's premiere. The event was organized by Warner Bros and the tourist body "Visit London" to celebrate the movie's upcoming release.
Barbie is a global icon and we're excited to partner with the upcoming movie 'Barbie' to turn some of London's iconic landmarks pink in her honour. With so much of the film shot locally at Warner Bros. Studios Leavesden and brought to life by a wealth of local creative talent who worked on the film, we're proud to celebrate London's role in what is sure to be one of the biggest films of the year.

Visit London CEO, Laura Citron – Via Variety
The pink TARDIS perfectly represents the collaboration between Doctor Who and the Barbie movie. Ncuti Gatwa, who plays Ken in the Barbie movie, is one of three Sex Education cast members who landed a role in the epic film. Actress Emma Mackey and actor Connor Swindells join him. The TARDIS, Doctor Who's 'time and relative dimension in space' machine, is an iconic symbol of the series that has existed since 1963. The TARDIS is always blue. However it has been in different shades over the years, but this special Barbie TARDIS is the best version yet.
Barbican, a Transport for London Tube Station, has been switched to "BarbieCan".
Doctor Who Is Pink For Barbie!
Doctor Who's TARDIS going PINK has caused quite a buzz on social media, with fans expressing excitement and admiration for the promotional campaign. One fan joked: 'Ah, the chameleon circuit's finally working.' The chameleon circuit controls how the TARDIS looks in Doctor Who, and it is supposedly broken, which is why the machine still holds on to the police box's outward appearance.
The Barbie movie hits cinemas on July 21st.
Doctor Who will air in November 2023 with three special episodes as the show's 60th Anniversary headliner event. David Tennant returns as the 14th Doctor alongside Catherine Tate as Donna Noble. Ncuti Gatwa's first episode as the Fifteenth Doctor will air over the festive period, while his series 14 will debut in 2024 with Millie Gibson. Disney+ will be the exclusive home for new seasons of Doctor Who outside of the UK and Ireland.
---
More From Nerdgazm
🚨 – The new Doctor Who: The Collection release – Season 9!
🔥 – An Exclusive Whoniverse Chat With Short Trips Writers Angus Dunican & Felicia Barker!
👀 – EXCLUSIVE: Doctor Who: Redacted confirmed for a second series!
You can also Follow Nerdgazm on Twitter, Find us on Facebook & Check out our Instagram!