We're a few months away from November's big Doctor Who 60th Anniversary. However, Big Finish have their plans. Doctor Who: Once and Future is an eight-part audio series. "A Genius for War" is the latest audio drama in the series. Each part has its cast of characters, representing a separate series era. There's a real novelty here, combining classic and revived series elements, even audio-exclusive characters. The series has been revelling in the benefits of the degeneration plotline, and I've loved it.
A Genius for War is written by Jonathan Morris. It features the Time War part of the Whoniverse. As such, we get side characters like the General (Ken Bones) and Veklin (Beth Chalmers), Time Lords who have appeared extensively in the War Doctor range. The Seventh Doctor (Sylvester McCoy) and Davros (Terry Molloy) are the main characters. Much of the novelty stems from hearing about the Seventh Doctor's involvement in the Time War.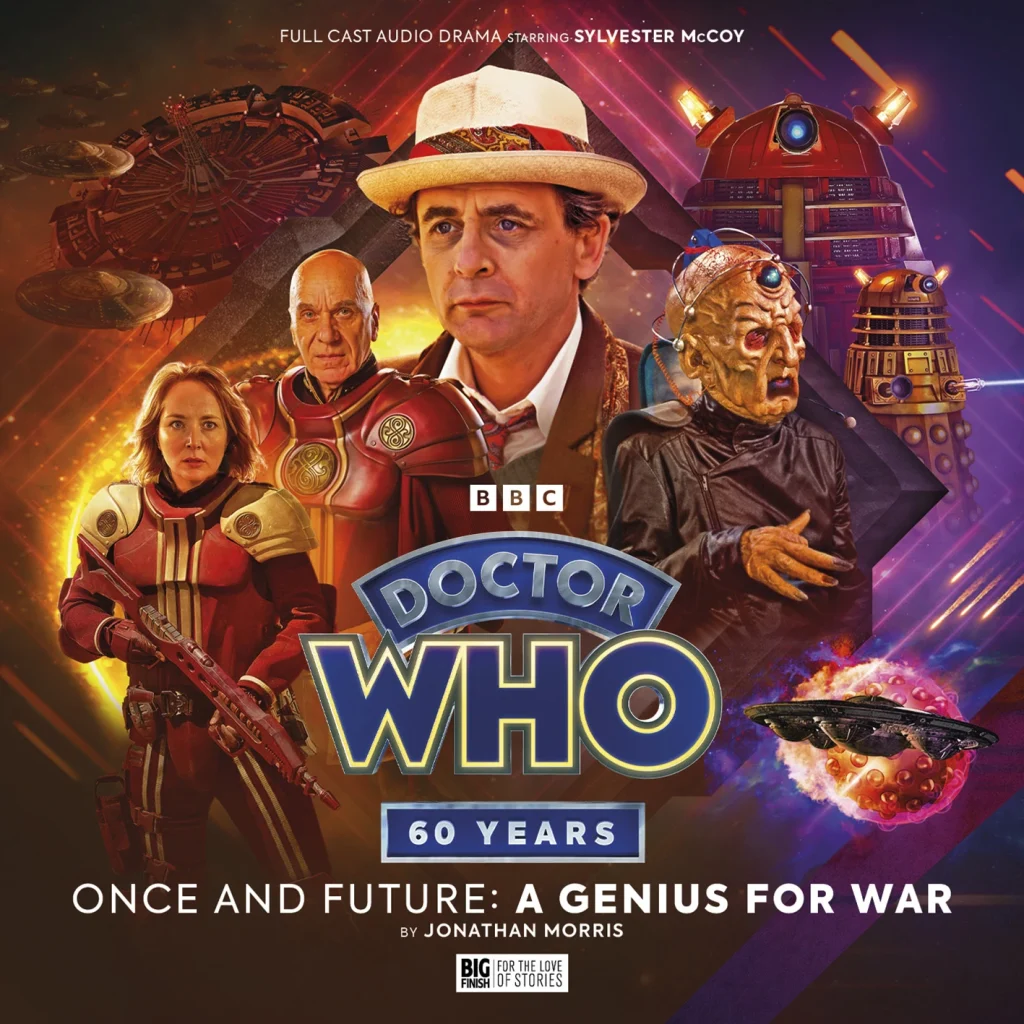 Doctor Recalled
Following the previous adventure, the Doctor's been scooped out of his journey doing a mission for the Time Lords. Although it's on the cover and in the synopsis, we all know that Davros is calling out for the Doctor to rescue him, it doesn't make the reveal any less epic and exciting. The problems this creates for the Doctor, going to rescue his biggest nemesis, made for some really exciting listening.
The Time Lords sending him on the mission were also fun throughout. It felt like something out of the Jon Pertwee episodes, with him being bossed around like that. However, the Time War setting and Davros made for a nice twist on that format. There's also a certain charm that only the Seventh Doctor has. He's more of an enigma than any other Doctor. Given that he spent his later seasons being in control (often assuring his victory before the story began), seeing him out of his depth in the Time War made the threat more real.
The guest cast, particularly the Time Lord characters, made the story enjoyable. Ken Bones is always stellar as the General. I especially loved him in Day of the Doctor. Beth Chalmers' Veklin is amazing here too. She's a character I wish would appear onscreen, and over the last few of her appearances, I've come to love her a lot. She comes into her own in this episode and is probably the standout of all the side characters.
Prison Break
Spending time on Falkus was a lot of fun. It's been a planet of some mystery, with a lot of fun events in the past across previous Time War era sets. The Daleks imprisoned their creator there, so it's not the nicest place. The scenes there are a lot of fun, if explosive and fast-paced. It presented some of my favourite work with the Daleks, with more than a few references to what we've seen of Davros in past appearances. The sound design of the prison planet is also simply phenomenal. Big Finish always excels at creating soundscapes, really bringing their locations to life.
With a lot of Time War stories out there from Big Finish (not even I've heard all of them!) I was worried about how accessible this was going to be. You'll be perfectly fine if this is your first Time War story at Big Finish. All the plot points you need to know, especially surrounding Davros, are perfectly explained. Thankfully, they're also vague enough that you can go and explore the other audios without having the stories wholly ruined.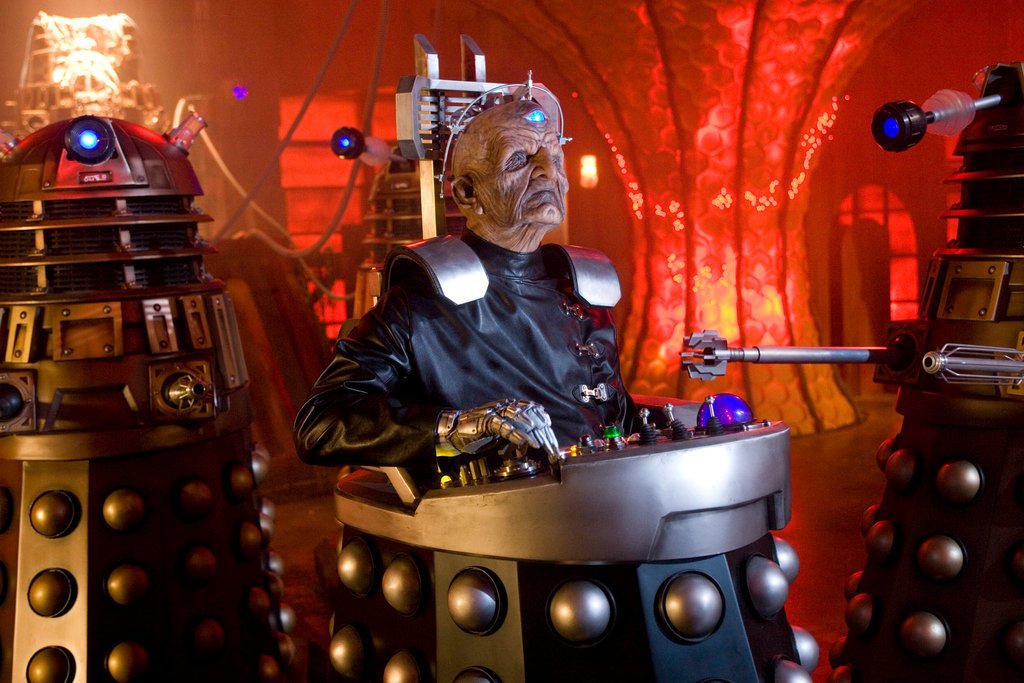 The Time Lords
There are scenes throughout the episode on Time Lord territory as well. Gallifreyan settings are ones we know all too well, and they're brought to life amazingly. For longtime fans of Doctor Who, some settings here will be very familiar indeed. As an anniversary story of the series, these settings and the references that come with them are perfectly understandable. There's just the right amount of fan service, but not so much that it becomes distracting.
There were also references to Who lore that I didn't see coming at all. Some of this is a real gamechanger for the Time War ranges as well, my jaw was very often on the floor during this episode. I'm very excited about where this series, and perhaps some of the Time War audios more broadly, might be headed. If this doesn't change the status quo of the range, I would be very surprised. Next month is the halfway point after all, so some answers are more than likely just around the corner.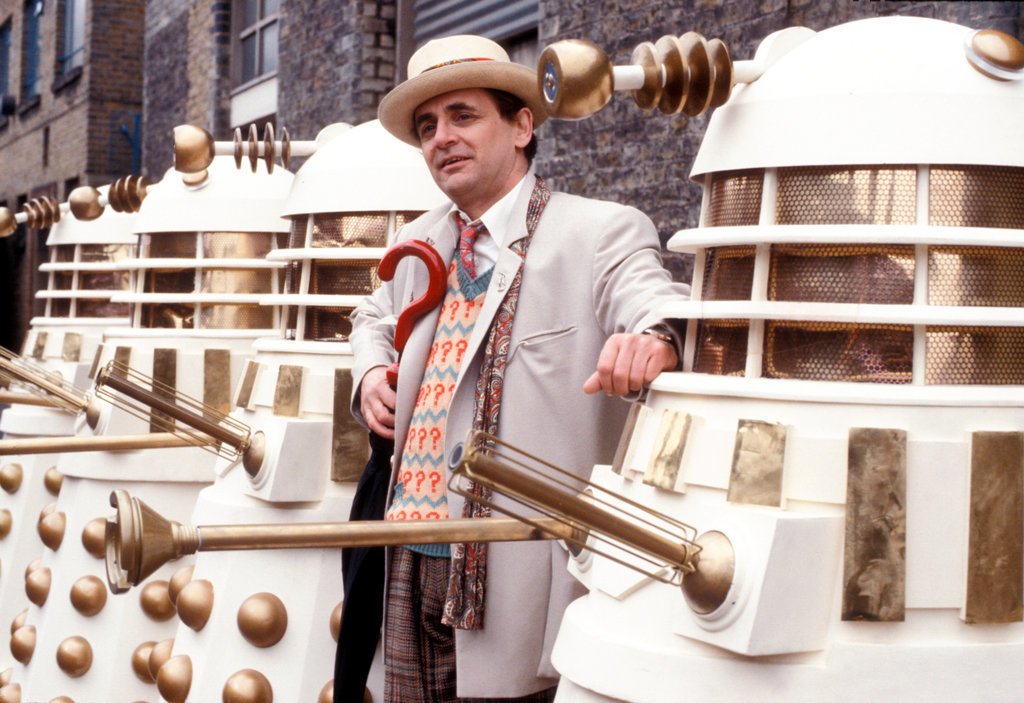 Conclusion
Sometimes, A Genius for War's ongoing story feels a little distracted. Here, I feel it's finally coming together. The quality of the individual episodes here has been really solid. I'd go so far as to say it's more consistent than most other Big Finish ranges. The next episode sounds like it will deal with the story a little more, following on the Diamond subplot introduced last time. However, the guest characters on show have little in common, with an older Harry Sullivan (Christopher Naylor), Jackie Tyler (Camille Coduri) and Lady Christina (Michelle Ryan).
Needless to say, I away with anticipation what the rest of this range has to offer. From the trailer, it sounds like a lot of fun, just the right amount of fun after a Time War story. Also, this monthly range has worked wonders to keep my mind focused on the anniversary. I hope the ending makes the whole journey worthwhile, but I've listened to enough arcs to know their finales are always really good. Whatever Once and Future – Two's Company has to offer, bring it on!
Where to Buy
Doctor Who: Once and Future – A Genius for War is out now from Big Finish Productions. Listeners can buy this episode individually as a CD (+ Download) for £10.99 or solely as a download for £8.99. There's also a series bundle available for £72 (CD and download) or just £60 for download only. The limited edition of the series, with extended extras and music suites, has sold out physically. It is now available for download only for just £62. You can get your copy here.
Doctor Who will air in November 2023 with three special episodes as the show's 60th Anniversary headliner event. David Tennant returns as the 14th Doctor alongside Catherine Tate as Donna Noble. Ncuti Gatwa's first episode as the Fifteenth Doctor will air over the festive period, while his series 14 will debut in 2024 with Millie Gibson. Disney+ will be the exclusive home for new seasons of Doctor Who outside of the UK and Ireland.
More From Nerdgazm
🚨 – The new Doctor Who: The Collection release – Season 9!
🔥 – An Exclusive Whoniverse Chat With Short Trips Writers Angus Dunican & Felicia Barker!
👀 – EXCLUSIVE: Doctor Who: Redacted confirmed for a second series!
You can also Follow Nerdgazm on Twitter, Find us on Facebook & Check out our Instagram!