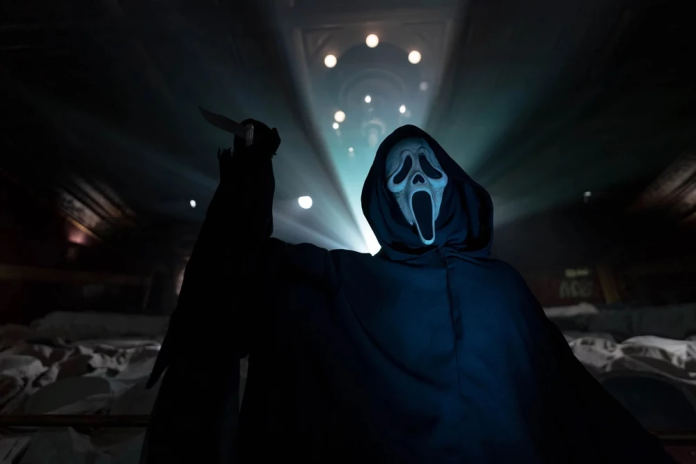 Our spoiler-free review of the next entry into the Scream franchise is here. Scream VI is the sixth entry into the franchise and breathes fresh air into the horror genre as it executes original formulas yet still adds a modern and intuitive twist. Matt Bettinelli-Oplin and Tyler Gillett return from Scream (2022) to direct the film. Additionally, they're joined by James Vanderbilt and Guy Busick as writers. However, original franchise writer and creator Kevin Williamson returns as an executive producer.
The film's premise follows the 2022 entry. However, this time taking place on the street of New York City. Therefore, it offers a brand new kill box for the classic franchise to explore. Melissa Barrera returns as Sam Carpenter, with Jenna Ortega as her half-sister Tara Carpenter. As expected, the film is very self-aware. It gains points from making remarks about the modern stereotypes of movies and the idea of bringing back legacy characters for fan service.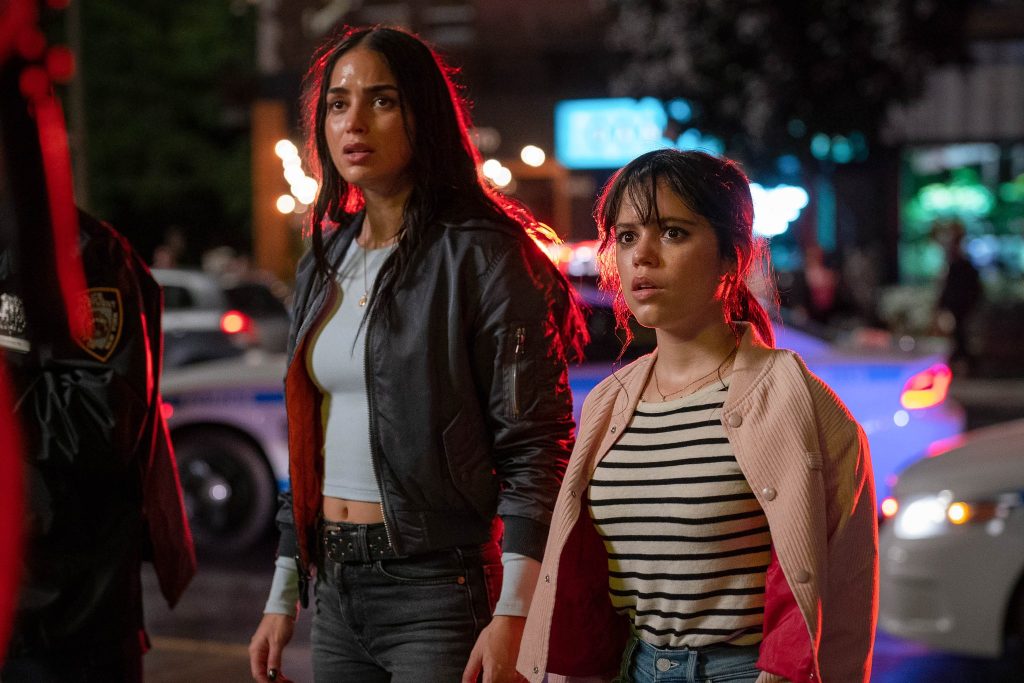 The Scream Story Continues
The Carpenter sisters move following Woodsboro and the Ghostface killings, seen in Scream 2022. One would expect this. However, twins Chad (Mason Gooding) and Mindy (Jasmin Savoy Brown) also go to New York City with them. The idea is to start a new life in the big apple, but this is horror. Of course, it's not that simple. Now nicknamed "The Core 4", they've got to survive another murderous rampage. While nothing majorly groundbreaking is done in this movie, it does not slip up in its execution at all.
Succfuly execution of comedy is not something I expected. However, Scream VI is delightful in its delivery of comedic remarks and aspects. I've got to commend Jasmin Savoy Brown for this. Her delivery of certain comedic remarks left a fair few laughs from the audience and me. Certainly, her monologue on the franchise was relatable to being a Star Wars fan. Overall, the film walks a fine line between camp and a good comedy. Occasionally the dialogue between everyone gets a bit over the top, but not enough to distract from the story's focus.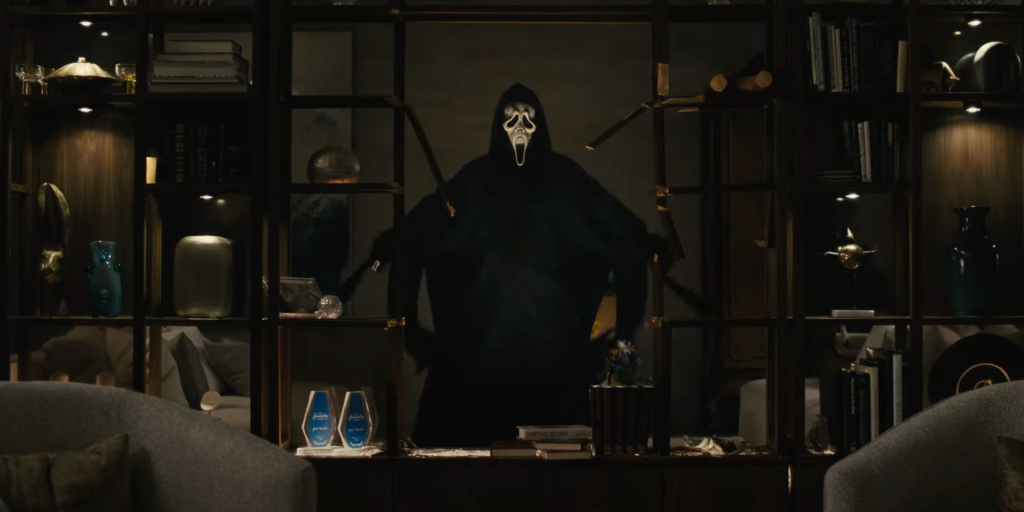 Respecting A Legacy
Scream VI makes its stance on legacy characters clear. Even going as far as to point out the cliche of modern movie franchisees and using legacy characters. An example of this is remarking on Luke Skywalker and other pop culture icons. Therefore, Scream VI invests in its legacy and new characters. Hayden Panettiere stands out excellently in her return as a fan favourite from Scream 4, Kirby Reed. The movie's stance on legacy characters makes the tension more nail-biting than what we expect from slasher films. Both legacy characters gel well with our new team. Something I was really happy with.
The return of Gale Weathers (Courteney Cox) is something long-term fans will appreciate. Cox masterfully handles her character well in Scream VI. I've got to come out and say that her face-off with Ghostface was a highlight of the film for me. Of course, talking about the legacy, we can't talk about Sidney Prescott. This is the first Scream movie without Neve Campbell. However, the film does make a remark that answers questions about where she is.
While respecting a legacy is very important, Scream VI can laugh at itself, which is good. The film is very self-aware, and I would say meta, but not in an annoying way. Meta is a running trope and core element, and it's successfully honoured based on previous films. Striking a balance when handling this is critical in today's movie landscape. Too much on one side or the other, and it's game over. Thankfully, Scream VI handles this very well.
Characters Done Right
Overall, the core four are very well written. However, it is Ortega who owns her role with perfection and is a standout among the cast. The dialogue between the four is acted as you would expect. Initially, I thought this "The Cour 4" idea was a little cringe-worthy. However, I enjoyed each character and what they brought to the table by the film's end. Mason Gooding also stands out rather well in Scream VI.
Scream VI introduces us to new characters, including Devyn Nekoda as Anika, Jack Champion as Ethan, Josh Segarra as Danny, Liana Liberato as Bailey, and Dermot Mulroney as Detective Bailey. However, Mulroney was another standout in his role as the Detective. While I could say, he permanently had that "pissed off cop" look on his face, he owns it. Even doing so when tension is introduced with Kirby.
Going back to dialogue, some areas do feel rushed. However, there are the typical tropes of conversations that connect back to each other. This is an early conversation between Sam and Tara that then comes up again later. While some of the dialogue is rushed in some areas, Scream VI is already long enough.
Intense Action, Intense Kills
I've got to commend the violent aspect of Scream VI. This film does not slow down regarding how ruthless Ghostface is. Some scenes of the brutal killings had me on the edge of my seat. Additionally, certain elements of cinematography mixed with Ghostface's appearance amplified the film's tension. A particular scene uses some iconic New York City locations to capture the tension of the character of Ghostface. A train full of Ghostfaces is not something you would expect, but here we are. As the movie states, nobody is off the table this time around. Therefore, tension is high.
The kills are nastier in Scream VI. They're not just bloodier, as you might expect, but rather more violent. Our killer is not messing around here. They kill for the sake of killing. It's a departure from the classic Wes Craven films. For example, those movies saw kills being part of a master plan. Whereas with Scream VI, the murders are straight-up horrifying in some scenes. While watching, I was initially concerned I was about to predict some events. Thankfully, the film kept me on the edge by subverting most of my expectations.
Scream VI does not waste time in getting to the action. Often what you'll see with other films in the genre is a slow slog through backstory and plot setup. Here, the movie gets straight to it and continues on its way. You could say this is rather sadistic, but I think it just shows the film's brutality and the killings. I think two of the best Ghostface killing sequences have to involve the train and escaping from the apartment. Viewers will know what I mean, but I am trying to avoid spoilers here. Get freaked out for yourself! These scenes were nail-biting with tension.
A Bloodier, But Funnier, Scream Movie
In conclusion, Scream VI is funnier, bloodier and a very enjoyable cinema experience. I can't wait to see what comes next. Ultimately Scream VI succeeds well with its twists, not making the killer clear until the end. Thankfully! However, this also feels like a great place to leave the franchise if they wished to. The film successfully acknowledged its past legacy while making space for new stars. Therefore, I am interested in what could come next if that is something that will happen. The franchise would have a bright future if they keep making films like this.
Scream VI premiered at the AMC Lincoln Square Theater in Manhattan on March 6, 2023, and is set to be theatrically released by Paramount Pictures on March 10, 2023.
---
More From Nerdgazm
🚨 – The new Doctor Who: The Collection release – Season 9!
🔥 – An Exclusive Whoniverse Chat With Short Trips writers, Angus Dunican & Felicia Barker!
🧾 – Upcoming Star Wars: The High Republic projects in 2023!
You can also Follow Nerdgazm on Twitter, Find us on Facebook & Check out our Instagram!