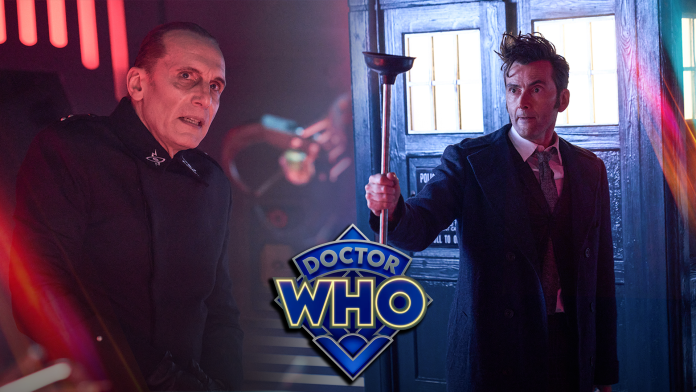 The Doctor Who Children In Need Special has landed! We got our first look at David Tennant as the 14th Doctor tonight. In a surprise reveal, the returning actor debuted his new incarnation of the Doctor right before the 60th Anniversary Specials. We've nicknamed it "Destination: Skaro", the 5-minute short scene took place in 2023's BBC Children In Need show. Alongside Tennant, actor and comedian Mawaan Rizwan appeared as Mr Castavillian. If you missed the special scene, you can catch it on BBC iPlayer and YouTube.
Just what horrors will be unveiled on Skaro? What does the mysterious Mr Castavillian have to do with the Doctor's greatest enemies? And, most importantly, how does David Tennant's new Doctor play out onscreen for the first time? All this and more in this review of the Fourteenth Doctors first ever TV adventure, "Destination: Skaro"!
SPOILER WARNING – If you've not watched this scene and want to do so, check it out on BBC iPlayer. This is our FULL review and, as such, will contain spoilers!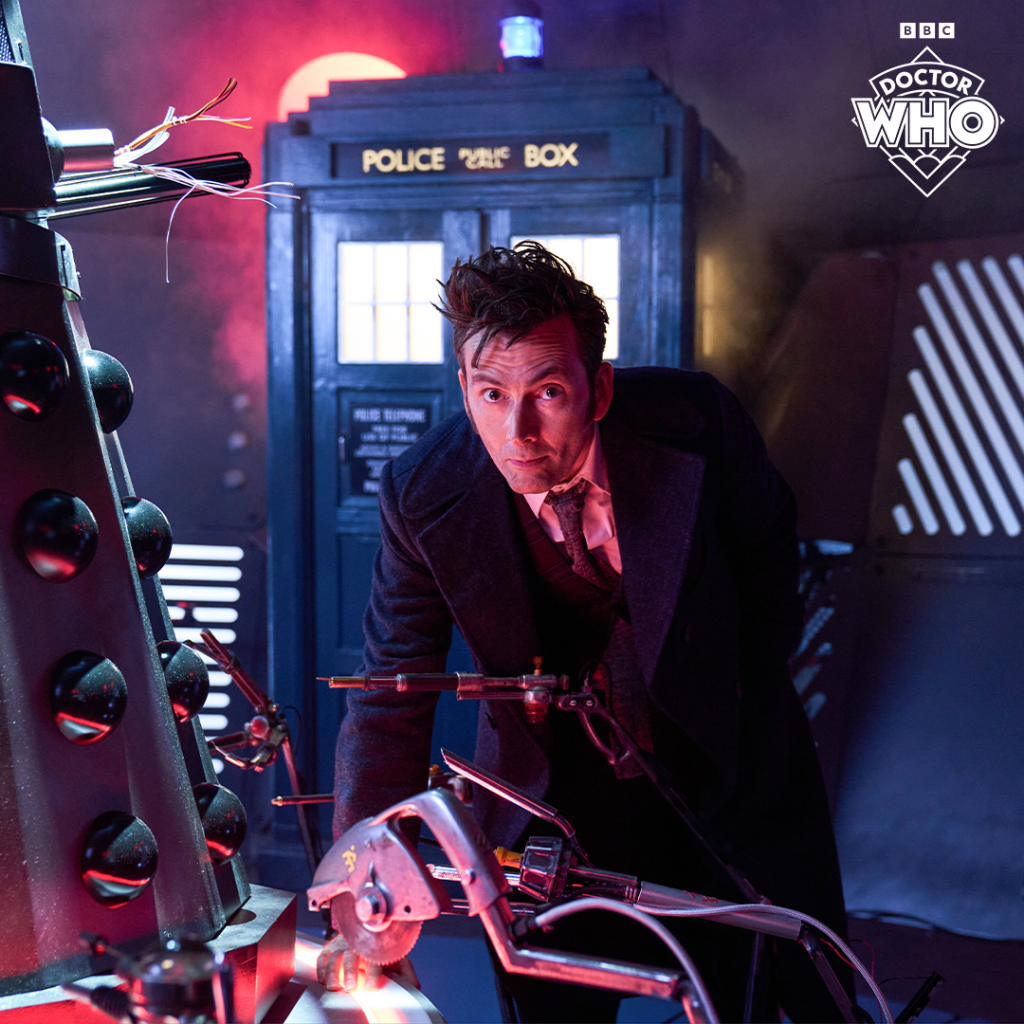 Enter The 14th Doctor!
Where would a Doctor Who scene be without the Doctor himself? Crashing through the Kaled lab, the TARDIS destroys the Dalek prototype and plants itself in the wall. From the Doctor's perspective, he's said to have regenerated an hour ago. I think this is supposed to follow on from the end of Liberation of the Daleks, in which the Fast Return Switch dragged the TARDIS back to Skaro. Recently, I talked about this comic strip in preparation for this sketch, so the reference feels very deliberate. Beyond that though, the scene was very self-contained.
David Tennant's performance is as energised as ever, a real breath of fresh air after 13 months off the air. It's very reminiscent of his time as the Tenth Doctor, but there's something ever so slightly different about it. He feels a lot more human, and much less filled with rage at his genocidal foes. His reaction to seeing a Dalek and his place in the history of the Daleks was amazingly entertaining. Interestingly, he named "Genesis of the Daleks", the classic 1975 serial, and how his presence is breaking canon. But we all know Doctor Who and Canon have never really been friends.
Following the comic, the TARDIS still operates with the Thirteenth Doctor's TARDIS interior. Unfortunately, the sets have since been dismantled. Although an image of the set is visible behind the Doctor, it still hides what the new TARDIS interior looks like. Just how they'll regenerate the TARDIS in the specials remains to be seen, and it's something that a lot of us are excited to see. The new set has been teased as very different and ambitious, so I can't wait to get a proper look at it.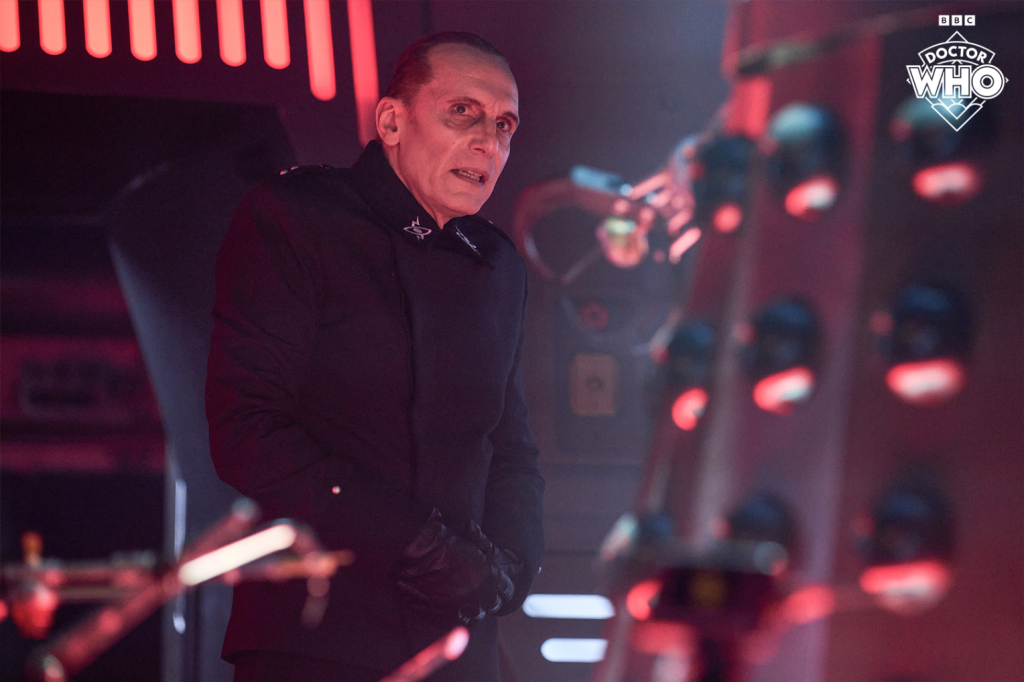 Welcome To Skaro
We're introduced to planet Skaro once again. We've been here before, so it's nothing brand-spanking new. Still, we've got a scene with a non-disfigured Davros meeting a new employee. In a surprise cameo appearance, the human Davros actor is Julian Bleach. He portrayed Davros in his more familiar half-Dalek form in 2008's Dalek episodes of "The Stolen Earth" and "Journey's End" and then two in 2015. I'm so glad they managed to keep his appearance in the episode under wraps, a very lovely surprise. Perhaps we'll see him again sometime?
Also, if you listen carefully, you can hear a small voice cameo from what we believe to be another familiar Whoniverse villain. I believe this is none other than the legendary Nyder, originally played by Peter Miles in "Genesis of the Daleks". He's one of the most evil villains in the show, and that's saying something. Interestingly, his line here is not one from the classic serial however. However they pulled this off, it was such a nice little callback. "Genesis" is one the all-time greatest Who episodes ever, so letting it have such a big role in the lead-up to the 60th Anniversary was a real treat.
Here, we see Davros working on the FIRST Dalek prototype model. It seems he's hired a new employee to work with him. Mawaan Rizwan plays "Mr Castavilliain", whose name fits the special scene. I think these two work well together. Honestly, this entire scene was a breath of fresh air and rather fun and friendly for viewers of all ages. While short, it reached where the whole "Dalek Plunger" weapon came from. It's a good starting point for the Daleks when you think about it.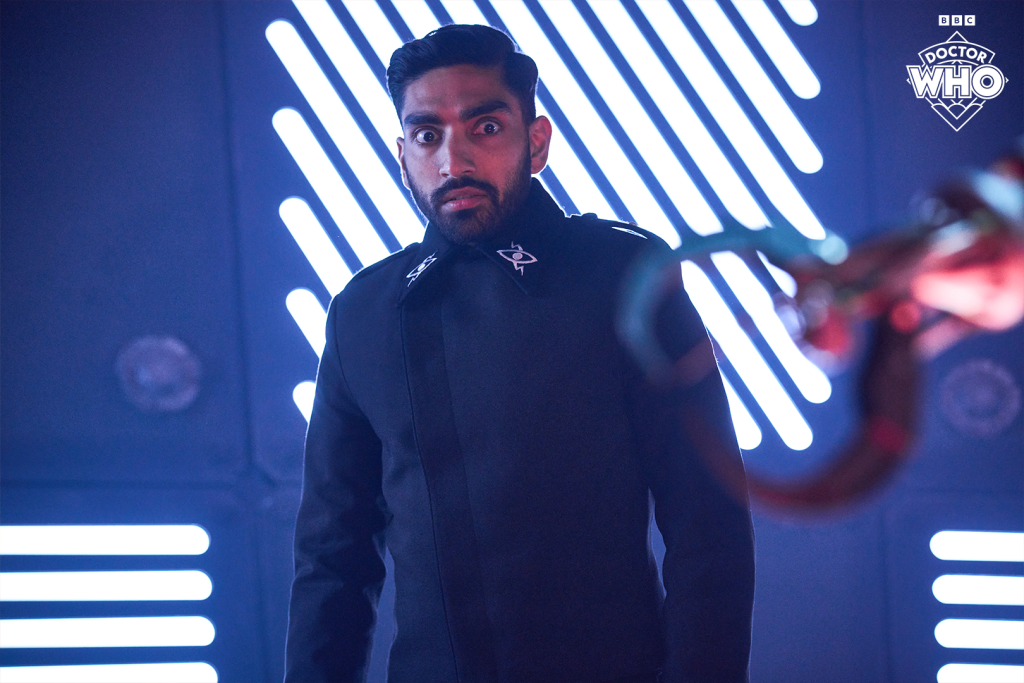 All Ahead for the 60th Anniversary Specials
So, that was the Doctor Who Children In Need Special for 2023. While a rather short scene, it does give us a good idea of who the 14th Doctor is. However, we'll need more time to see how David Tennant makes this new incarnation of The Doctor stand out from the Tenth. While short and sweet, this did get a good laugh out of me and was pleasant to watch. It gave us a good little glimpse into the 60th Anniversary specials which will be coming along next week with "The Star Beast". The countdown to next Saturday is ramping up, with the specials being closer than ever before!
Doctor Who will return on November 25th 2023, with "The Star Beast", the first in three special episodes as the show's 60th Anniversary headliner event. David Tennant returns as the 14th Doctor alongside Catherine Tate as Donna Noble. Ncuti Gatwa's first episode as the Fifteenth Doctor will air over the festive period, while his series 14 will debut in 2024 with Millie Gibson. Disney+ will be the exclusive home for new Doctor Who seasons outside the UK and Ireland.
---
More From Nerdgazm
🚨 – Doctor Who: Once and Future – Two's Company – Review
🔥 – NEW Doctor Who: Unleashed Series Announced!
👀 – Doctor Who "Tales of The Tardis" Officially Revealed!
You can also Follow Nerdgazm on Twitter, Facebook, Instagram and now Threads!