Believe it or not, we're halfway through Big Finish's Doctor Who 60th Anniversary celebrations! The fourth part of the Doctor Who: Once and Future series from writer Lisa McMullin, entitled "Two's Company", is out now. The story sees Colin Baker's Sixth Doctor, garish coat and all, dragged into the 2000s. I love how each story stands on its own for a series with such a big story behind it. Each episode has its own distinct setting and main characters.
Every part of the series has blended the classic series, the revived series, and even original Big Finish ideas. Once and Future: Two's Company definitely blends these elements. We've got the Sixth Doctor, Jackie Tyler (Camille Coduri), Lady Christina (Michelle Ryan), and even an old Harry Sullivan (Christopher Naylor). But do these very disparate characters actually fit together? And what of this renegade Time Lord who's working with Harry? All of this and more in this review of the latest addition to Doctor Who's 60th Anniversary celebrations.
The Character Mix
I'm a big fan of Lisa McMullin. Stories such as "The Lumiat" from the Missy series and "Girl, Deconstructed" from the Ninth Doctor Adventures are among some of the coolest Doctor Who stories on audio. She's no stranger to the Whoniverse, so handing her these characters and letting her run wild was a no-brainer. It sounds like a strange mix of characters. I was all sorts of confused and hesitant going into this. But Once and Future: Two's Company was fun. A combination that shouldn't have worked led to a wildly fun hour.
Jackie and Christina together are comedy gold. Jackie's probably one of the funniest characters of the show. Pairing her up with Christina was inspired. They're both very different worlds, and Christina's relative seriousness made them brilliant foils for each other. How they meet and how it's all ultimately explained works as well, with it not interfering with the canon of the series. I cannot stress enough how much this pairing shouldn't have worked, but given the last episode's Time War setting, this is some much-needed fun.
Harry's a bit of a different story, playing a role in the story that wasn't quite the traditional companion return. As per the synopsis, he's being manipulated by a mysterious Time Lord renegade. It creates a nice spot of tension. Many companions have returned, so to turn one into an unwilling villain was an interesting listen. Making it Harry, a short-lived companion overshadowed by Sarah Jane (Elisabeth Sladen) was an interesting choice. It's also an accessible return, so you definitely don't need to have heard all his recent Big Finish stuff either (although it's worth a listen!).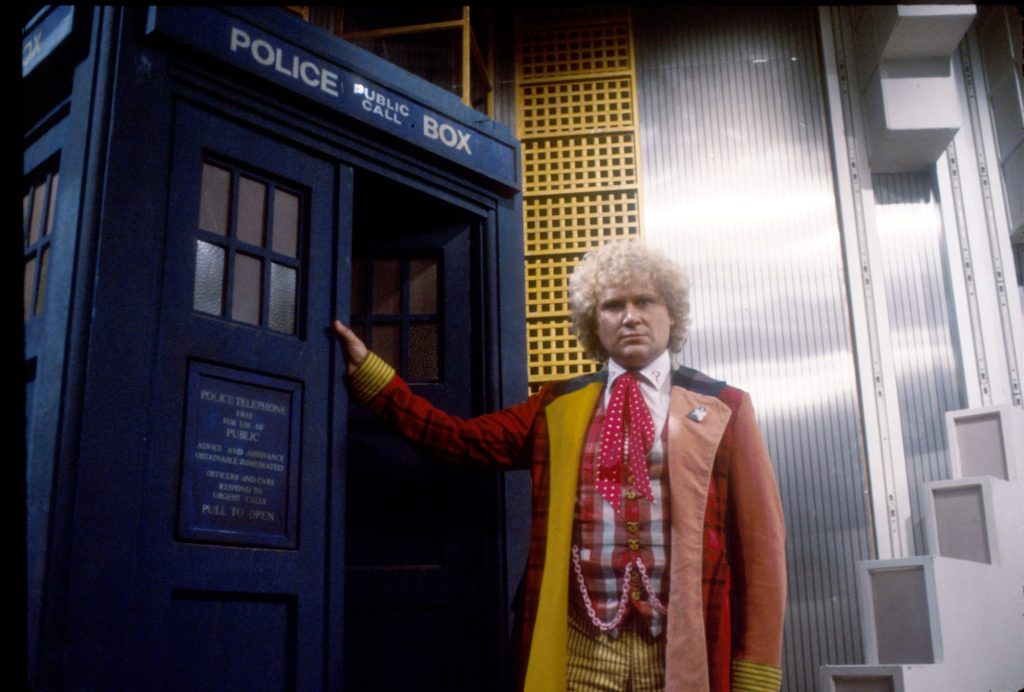 Back to the Beginning
The synopsis teased something I thought was really fascinating – a return to the beginning of the Doctor's travels. A look at the standard cover definitely helps, with the gate to the Totter's Lane junkyard hiding away in the diamond. By doing this, it's probably become the most ambitious episode of the series so far. Going back that far, a setting so tied to the start of "An Unearthly Child" is only acceptable on an anniversary, and 'tis the season! The stuff to do with the '60s in this story was easily my favourite part (although, as a Classic fan, I'm very biased).
I'm a little disappointed it's the sort of thing they'd put on the cover. It functions as a nice reveal that ends up happening pretty organically. The showdown between the Doctor and the mysterious renegade (Michael Maloney) is also truly one for the ages. I didn't see the reveals coming, and I've never heard anything quite like it. The final few minutes of this story are mind-blowingly good, breaking new ground. I've never heard anything like it, and I probably won't for quite some time. I hope the rest of the series can top that.
The 2000s setting also explores the beginnings of the revived series, seeing some fan-favourite characters like Jackie. The juxtaposition between the 1960s and 2000s settings allows fans of both eras to enjoy themselves. Having Jackie meet another Doctor, especially one who looks dragged out of the 80s, was also so much fun. This story blends some classic and new characters while putting their settings up against one another as well. Plus it manages to be a hilarious heist romp. Literally, what more could you want out of a Doctor Who story?
Conclusion – Looking Forward to Part Five!
Despite my hesitation at what seemed like a random cast list, this was so much fun. Doctor Who knows when to be silly, just the fun an anniversary needs. I'm walking away smiling and excited to see what Jackie offers in The Orphan Quartet next week. I'm also tempted to check out the Lady Christina series. I was such a big fan of her here.
Most importantly, though, I'm very excited for the next episode of Once & Future! Entitled "The Martian Invasion of Planetoid 50", it comes out next month. The story stars the legendary David Tennant as the Tenth Doctor, alongside Michelle Gomez as Missy. Also featured in the supporting cast as the Paternoster Gang – Vastra (Neve McIntosh), Jenny (Catrin Stewart), and Strax (Dan Starkey). Again, it's quite the mix, and I'm particularly excited to see how they integrate Tennant. The obvious War of the Worlds inspiration is also fun as a science fiction fan. Looking forward to it!
You can pick up your copy of Doctor Who – Once and Future: Two's Company from Big Finish Productions! Listeners can purchase a CD bundle of the series for £72 or a download-only copy for £60. There's also a special edition, with extended extras and music, available for £62 as a download-only copy. For Doctor Who news, reviews, lore, and more, follow Tardis Central!
---
Doctor Who will air in November 2023 with three special episodes as the show's 60th Anniversary headliner event. David Tennant returns as the 14th Doctor alongside Catherine Tate as Donna Noble. Ncuti Gatwa's first episode as the Fifteenth Doctor will air over the festive period, while his series 14 will debut in 2024 with Millie Gibson. Disney+ will be the exclusive home for new seasons of Doctor Who outside of the UK and Ireland.
---
More From Nerdgazm
🚨 – The new Doctor Who: The Collection release – Season 9!
🔥 – An Exclusive Whoniverse Chat With Short Trips Writers Angus Dunican & Felicia Barker!
👀 – EXCLUSIVE: Doctor Who: Redacted confirmed for a second series!
You can also Follow Nerdgazm on Twitter, Find us on Facebook & Check out our Instagram!