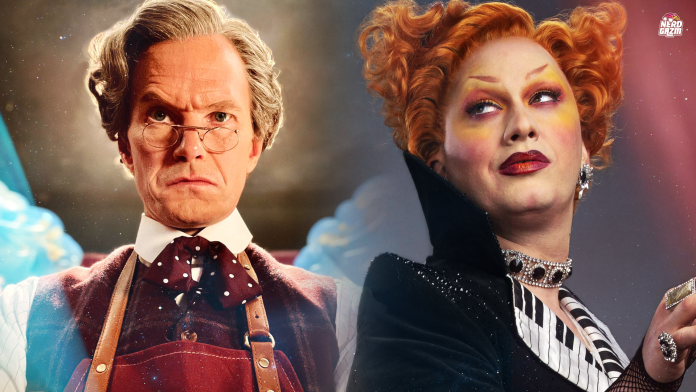 The world of Doctor Who is no stranger to celebrity guest stars and iconic villains who play them. With his return as showrunner, Russell T Davies will bring us some of the best of the best. However, are Doctor Who's New Villains connected? The reveal of Neil Patrick Harris and Jinkx Monsoon as the Doctor's villains leaves us with many questions. Series fourteen boasts a cast including some of the greatest British talent with Miriam Margolyes, Anita Dobson, Aneurin Barnard and more. Two of the biggest stars, however, are American Broadway legends! 
Neil Patrick Harris, who also starred in Russell T Davies's award-winning drama, It's a Sin, returns as an unknown character for Doctor Who's 60th Anniversary. While there's no confirmation on who his character is, fans have decided that he's playing "The Toymaker". His menacing character will appear in one of the Sixtieth Anniversary specials in 2023.
Jinkx Monsoon is the other star, more recently announced. For those unfamiliar with Jinkx, she won RuPaul's Drag Race season five. Last year, she became champion of Drag Race All Stars 7, which saw winning queens compete to be the Queen of Queens. Jinkx is a superstar of stage and screen and came straight to Doctor Who from her turn on Broadway as Matron Mama Morton in Chicago.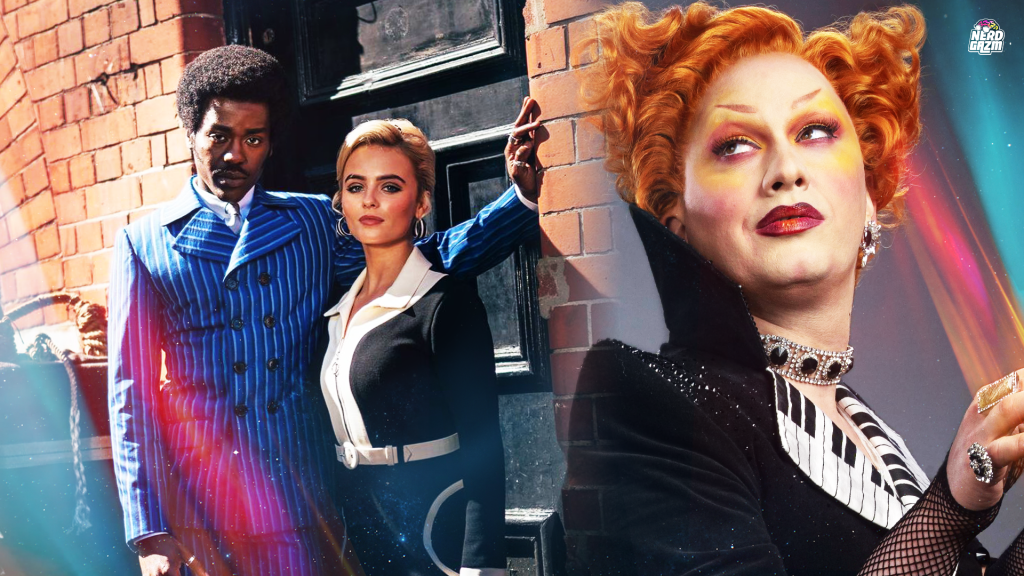 Enigmatic New Villain
When Neil Patrick Harris was first announced, Russell T Davies posted on Instagram, saying:
"Neil Patrick Harris, welcome to Cardiff! Playing the greatest enemy the Doctor has ever faced. Such a great actor, such a great man, it's an honour and a hoot. Have fun!"

Russell T Davies. Instagram. 13/6/22
This quote with the first look at Neil's costume, which appears to be a grumpy older man dressed like a Toymaker. The most notable part of the comment was the music emoji at the end of it. However, when he appeared on set, his costume was very different. He gave off Emcee from Cabaret vibes with a top hat and tailcoat mixed with a clownish feel and theatrical makeup. Whoever he's playing is very sinister and looks like he will cause trouble for the Doctor. Judging by the rubble and burning debris scattered around the town as people flee, they're a dangerous adversary. 
Harris was also spotted dancing with David Tennant on set. This was during Doctor Who's 60th filming in Bristol last year. His outfit at the time could be compared to that of a conductor. Harris and the BBC released an updated look at the character straight from Bristol filming.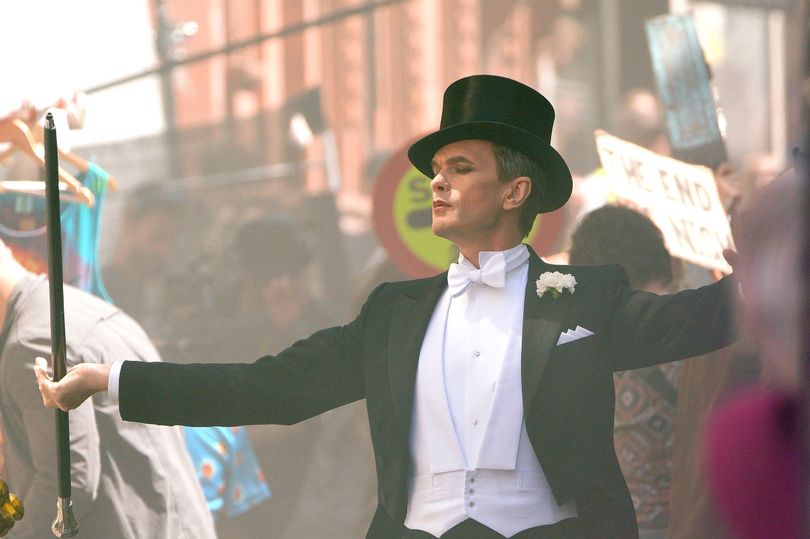 An Added Mystery
The appearance of Neil Patrick Harris, potentially playing The Toymaker, thrilled fans and carried the enormous weight of the hype. Eventually, things calmed down until a recent casting announcement resurfaced that excitement. This time, with Jinkx Monsoon as a "major" character. Fans speculated whether she might be The Master or The Rani…that was until her costume reveal. In a second press release to debut Jinkx Monsoon's costume, the BBC revealed:
"Jinkx Monsoon has landed and started filming for Doctor Who and here is the first look image of her in character… as the Doctor's most powerful enemy yet!"

BBC Press Release. 19/4/23
While the wording isn't too close, it still caught the attention of eagle-eyed fans who remembered the "greatest enemy" line about Neil Patrick Harris's character. It's very much along the same lines and felt similar enough to make a connection. If the character's description wasn't enough, the costume raised a few eyebrows.
Jinkx wears a super campy costume which leans heavily into a piano design and feels thematically connected to Neil's costume. Both styles are seemingly inspired by cabaret, music hall and pantomime. It's very musical theatre, and it makes sense with both characters being played by popular Broadway stars. Perhaps Doctor Who's New Villains are both musically talented? Filming for Series 14 recently saw Jinkx singing on the set.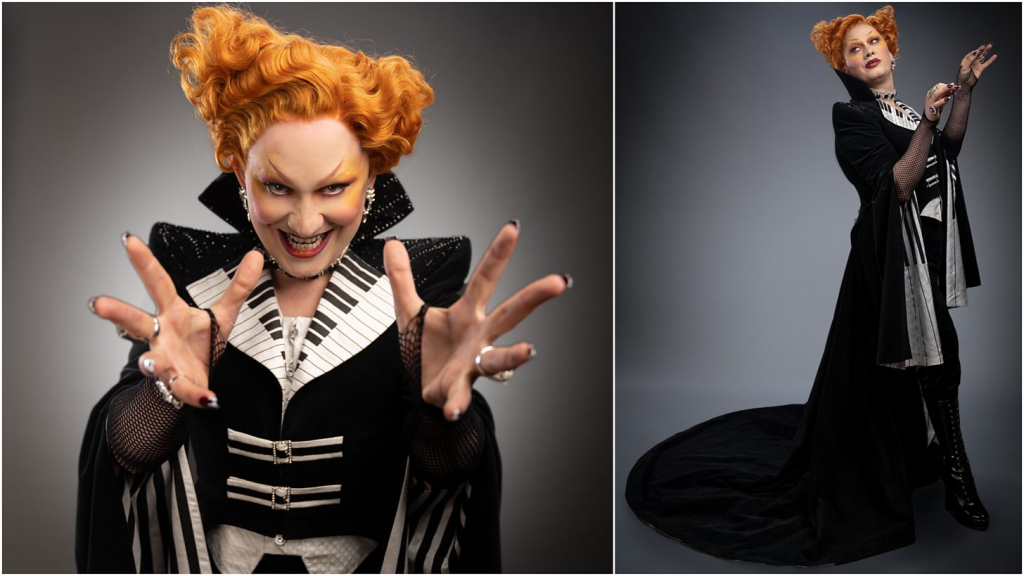 A Deeper Connection
On Instagram, fans praised the reveal of Jinkx's costume when Russell shared the image himself. One user commented, "Divine Choice: with a piano emoji, to which Russell replied with a quaver (musical note, not the crisp) and a love heart. Does that sound familiar? Of course, it does! When Neil Patrick Harris was revealed, Russell finished his announcement post with a love heart and a quaver. 
Could this allude to the connection fans thought they were seeing? While the original post used the heart and quaver, this one uses the emojis in the opposite way. Could it be an honest mistake, and this is the same character in a different form? Or could it be a literal clue? Could this be a musical duo?
Russell's Instagram post also gives us a clue as to how important one of Doctor Who's New Villains could be. He outright tells us that not everybody will get out alive. And with a character who is supposedly so powerful, enough so to kill someone, it would make sense for them to be a recurring character…a "big bad", so to speak.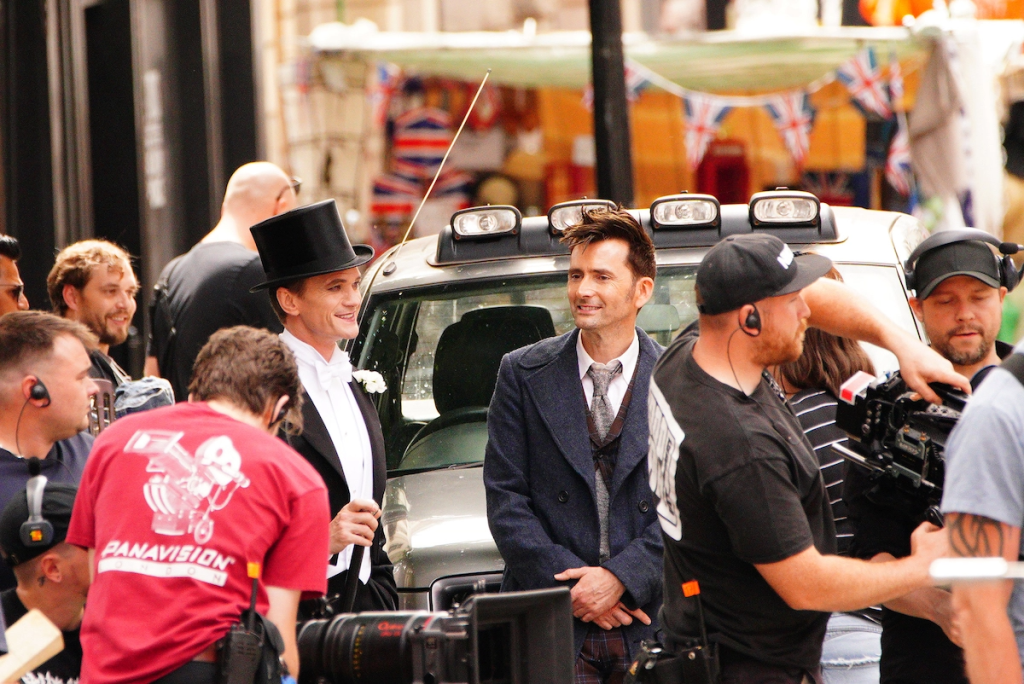 Conclusion
At the moment, it's all speculation, but there's enough to go on to make these connections and theorise. There's no doubt that whatever happens, Russell T Davies will absolutely deliver in his writing, and Neil and Jinkx will give one hundred and ten per cent in their performances. They are two huge names to add to Doctor Who, and they're guaranteed to make waves, whoever they're playing. Let's keep our fingers crossed that we'll finally get that musical episode we've been waiting for! 
Doctor Who will air in November 2023 with three special episodes as the show's 60th Anniversary headliner event. David Tennant returns as the 14th Doctor alongside Catherine Tate as Donna Noble. Ncuti Gatwa's first episode as the Fifteenth Doctor will air over the festive period, while his series 14 will debut in 2024 with Millie Gibson. Other new cast members include Heartstopper star Yasmin Finney and Neil Patrick Harris. Both characters are being kept under wraps for the moment.
---
More From Nerdgazm
🚨 – The new Doctor Who: The Collection release – Season 9!
🔥 – An Exclusive Whoniverse Chat With Short Trips Writers Angus Dunican & Felicia Barker!
👀 – EXCLUSIVE: Doctor Who: Redacted confirmed for a second series!
You can also Follow Nerdgazm on Twitter, Find us on Facebook & Check out our Instagram!