As you're probably aware by now, Big Finish are doing their own big storytelling initiative to commemorate the 60th Anniversary of Doctor Who. Once and Future is a sweeping audio series, and it is so much fun! This month's episode is called The Martian Invasion of Planetoid 50, mysteriously starring David Tennant as the Doctor. Those following along with the series know that shouldn't be possible, which makes it all the more intriguing.
Like the other stories in the series, all the main drawcard characters are there on the cover. While not quite the whiplash last month caused, we've still got quite the exciting mix here! The Paternoster Gang (Neve McIntosh, Catrin Stewart, Dan Starkey) and Missy (Michelle Gomez) are joining the Doctor on this adventure. If that's not enough to excite you, what if I told you about the Martian Invasion? Let's get into it in this review of The Marian Invasion of Planetoid 50!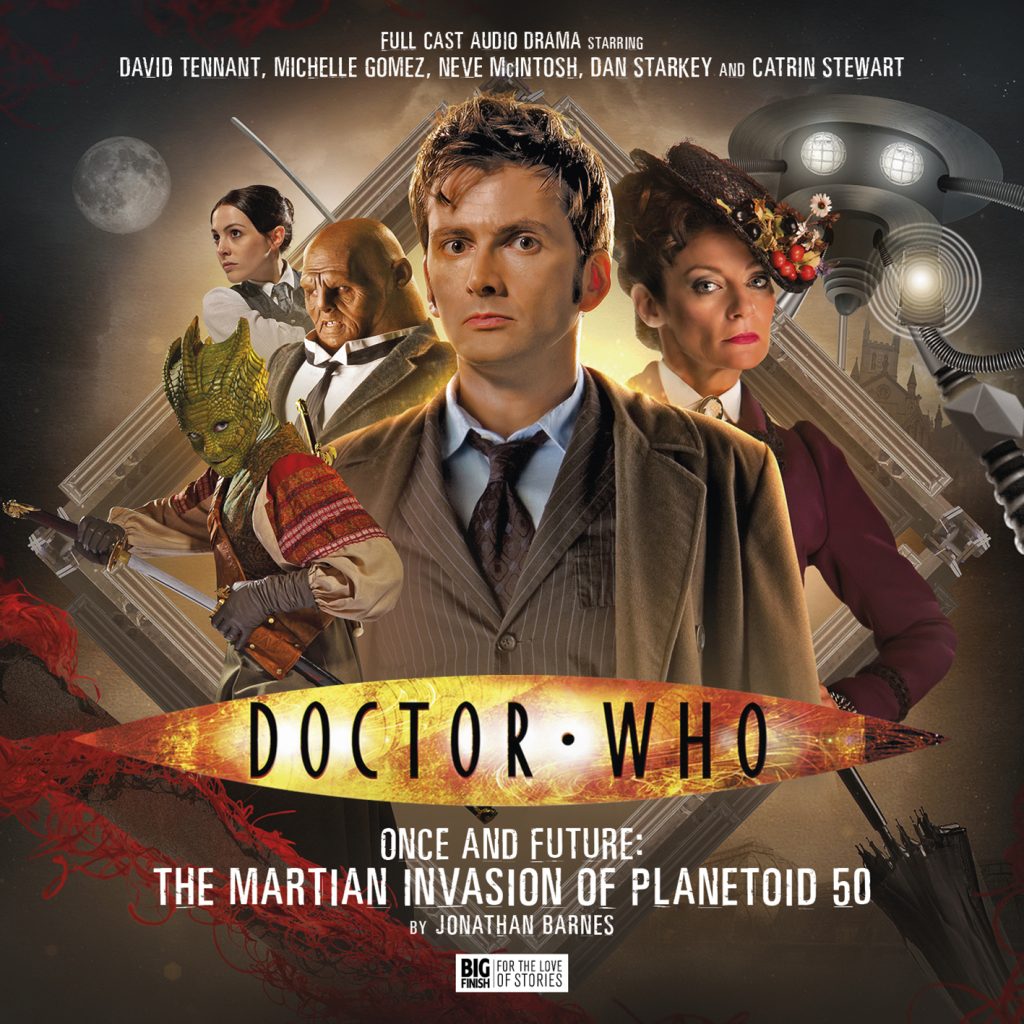 The Martian Invasion
For any eagle-eyed (or should I say eared?) sci-fi fans, what's going on should be fairly obvious. The Martian invasion is a recreation of the classic War of the Worlds. The reverence that writer Jonathan Barnes has for the original alien invasion story is evident throughout. Odds are you've read, watched, or listened to the story at some point, so you'll probably appreciate a lot of it, too. There are a few sweet tongue-in-cheek references which I enjoyed immensely.
Alas, where a classic story comes to life, some Time Lord trickery is probably afoot. With Missy present, hilarity and danger ensue in equal measure. Her chemistry with Tennant's Doctor is laudable, with the two native Scots having the best banter. This is something that extends into the extras, which is simply delightful. It's pretty much impossible that we'll end up hearing or seeing them together again, but we can dream. After three series of her own audio spinoff, it's nice to hear her interacting with the Doctor again, her first time since Ravenous 4.
Michelle Gomez breathes life into the episode, injecting it with a genuinely entertaining, fast-talking performance as Missy. The biggest shame is that she and Tennant can't spend more time together. Although details for The Union and The Final Act are scarce, there's every chance we could see the Master popping up again. Regardless, at least what we got here was really good. The opportunity of having Missy doing a War of the Worlds situation was not at all wasted.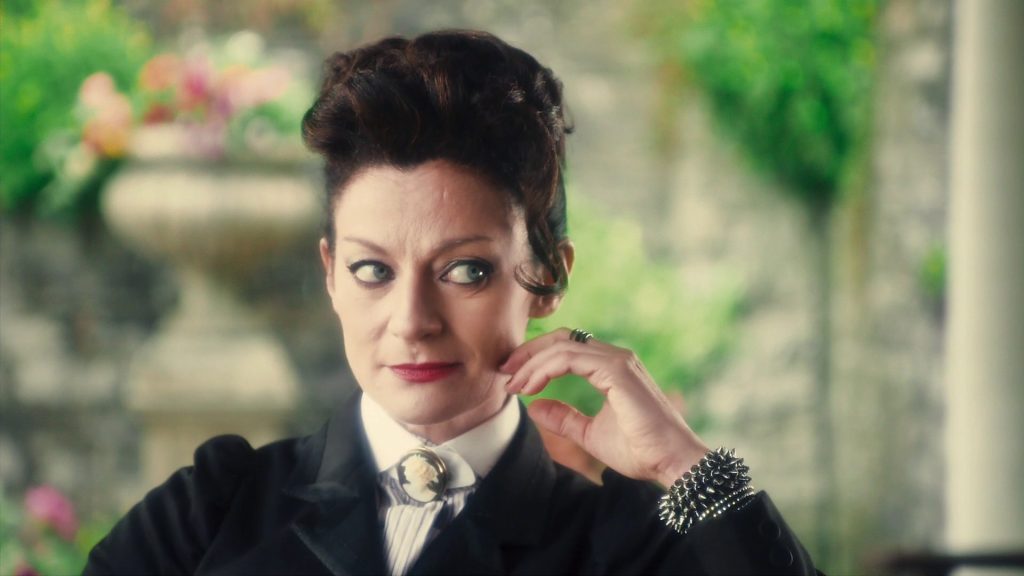 Victorian London
Interestingly, it's the First Doctor (Stephen Noonan) who kicks off this story. It leads to quite the extended cold open, allowing people to sit with Noonan's amazing impression of William Hartnell. The time he spends with guest character Jessamy Moore (Hannah Genesius) was a lot of fun, and she may well be the best guest character of the series so far. She's a journalist, and a great companion of sorts to the Doctor as they get to the truth.
I don't want to get into the specifics, as it would be a travesty to spoil it for anyone interested in reading it, but the truth is quite intriguing. I've already mentioned War of the Worlds, which Big Finish have previously adapted as The Martian Invasion of Earth (hence the title of this episode!). However the real meat of the story is so much deeper than that. Barnes casts a wide net for an hour long episode, so watching all these plot threads come together into an explosive finale made this an absolute pleasure.
For instance, when in Victorian London, the Paternoster Gang are never too far behind! The trio are a frankly genius addition to the story, with the established chemistry between them being a massive highlight. Strax in particular gets a few great lines that had me howling with laughter. Having a Doctor who didn't know who they (or Missy) actually are made it so much more fun to listen to. The gang will next appear in a new series of their own spinoff Trespassers 1: Rogues Gallery. This is a lovely primer if you're looking to get into them on audio.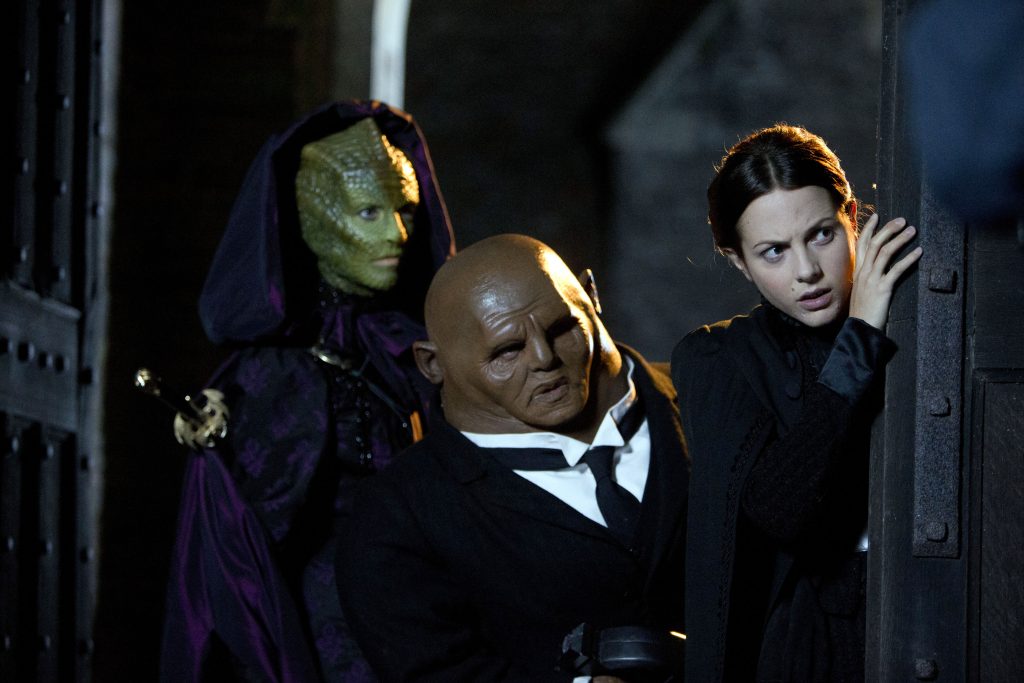 Conclusion
The Martian Invasion of Planetoid 50 is a welcome addition to the Once & Future series. It's a loving tribute to science fiction of eras past, with the humour and style of modern Doctor Who. In no uncertain terms, this story is a delight. I've already listened to this one a couple of times, and will happily listen to it again. I also highly recommend the extended extras, as Tennant and the rest of the cast are a pleasure to spend time with behind the scenes!
You can pick up your own copy of Doctor Who – Once and Future: The Martian Invasion of Planetoid 50 out now from Big Finish productions! It's available for purchase exclusively here. The story is available individually as a collector's CD for £10.99, or download for £8.99. The special edition is now sold out on CD, but can still be ordered as a download only for £62. For more Big Finish reviews, lore discussion and geeking out about all things Doctor Who, be sure to follow Tardis Central for more!
---
Doctor Who will air in November 2023 with three special episodes as the show's 60th Anniversary headliner event. David Tennant returns as the 14th Doctor alongside Catherine Tate as Donna Noble. Ncuti Gatwa's first episode as the Fifteenth Doctor will air over the festive period, while his series 14 will debut in 2024 with Millie Gibson. Disney+ will be the exclusive home for new seasons of Doctor Who outside of the UK and Ireland.
---
More From Nerdgazm
🚨 – Doctor Who: Once and Future – Two's Company – Review
🔥 – BBC Remastered Doctor Who Series 1-4 for 60th Anniversary!
👀 – EXCLUSIVE: Doctor Who: Redacted confirmed for a second series!
You can also Follow Nerdgazm on Twitter, Find us on Facebook and check out our Instagra