A Doctor Who musical episode. It might sound like a quirky idea. Or a divisive gamble. But now it's likely that Russell T Davies has written a musical episode for the new series. Following the casting of Johnathan Groff and Jinkx Monsoon and an explosion of set reports from Twitter, here's our round-up of all the rumours about Doctor Who's Musical Episode. Is it real? Is it something else? Who knows!
Doctor Who Series 14 is filming right now. Filming has been taking place in Cardiff, Bristol and recently, Newport. Eagle eyes Whovians noticed Doctor Who filming had rocked up to Tredegar House, just outside Newport. It seems like the cast and crew were there for two nights. We're unsure if this relates to Doctor Who's Musical Episode. However, as we all know, Doctor Who can jump through multiple eras of time in one single episode. Therefore, certain characters and locations could be linked to the overall story. Let's explore some of the details.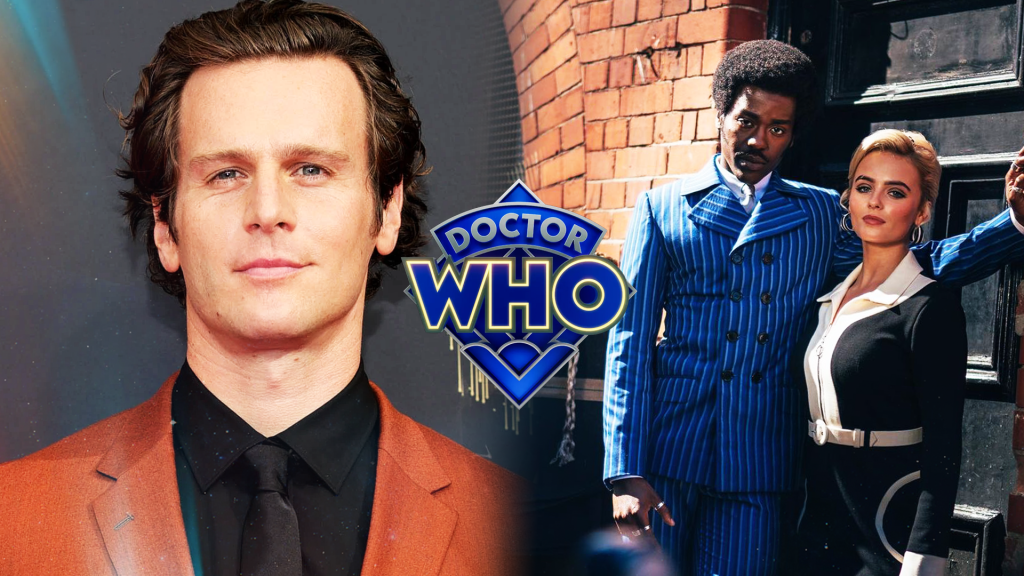 Musical Guest Stars
The rumours about Doctor Who's Musical Episode all started with the cast announcements. It was a niche joke when Neil Patrick Haris was announced for the 60th Anniversary. Then the idea seemed more realistic when Jinkx Monsoon was announced for the new series. Once Groff, the third actor with a musical theatre history, was announced, some fans called a musical episode "inevitable."
Groff has worked on dramatic roles like in the series Mindhunter. But most of his career has been in musicals, such as Kristoff's role in 'Frozen' and King George in 'Hamilton.' Meanwhile, Monsoon has recently returned from a sell-out performance as Mama Morton in the Chicago musical. Monsoon's costume explicitly links her character to the music, with a striking piano motif in her collar. The latest publicity photo implies that Groff will not be in the same episode as Monsoon. This has led some people to doubt the possibility of a musical episode. Instead, some believe the new series will have a musical theme or reoccurring musical characters.
Some people believe that Harris and Monsoon's characters are linked. Some think Monsoon might be a new incarnation of Harris' character. Others think they could be separate characters in the same musical collective. Finally, some believe that Jinkx might actually be part of the same episode. That's because there appears to be pixelation in part of the photo, suggesting that producers may have edited the photo to cut a cast member out.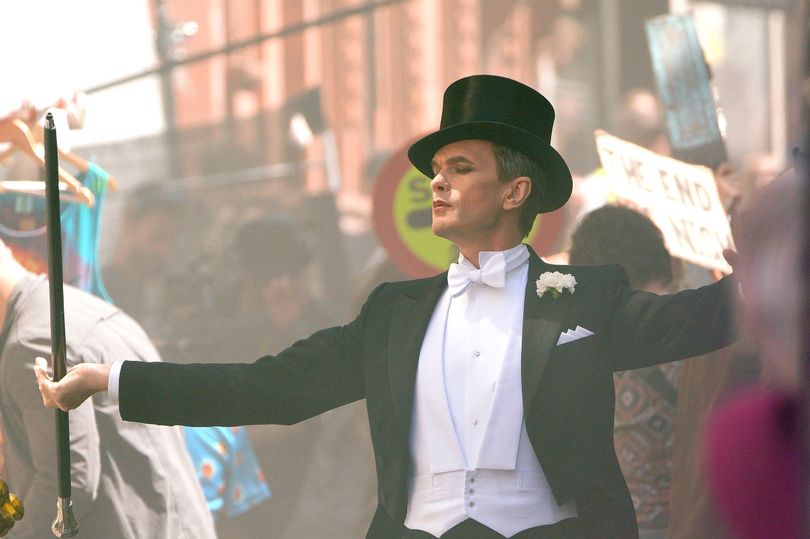 Murray Gold & Musicals
Since Gold doesn't have an obvious record of composing for musical theatre, you might be forgiven for thinking his music wouldn't fit into a Doctor Who musical episode. But Gold has had an extensive career in writing for the stage and produced the radio play "Kafka the Musical." As well as his orchestral soundtracks, Gold also produced several musical songs during his earlier tenure as Doctor Who, including 'My angel put the Devil in Me' from 'The Daleks in Manhattan.', 'Abigail's Song' from 'a Christmas Carol', and 'The Long Song' from 'The Rings of Akhaten.'
Perhaps Gold was brought back as a composer because of the musical episode in the series. If there is a musical episode, the show would require a composer with a track record of writing soundtracks and individual songs. 
Set Reports & leaks
One of the biggest hints towards Doctor Who's Musical Episode is the fact that Jinkx could be heard singing during recent filming. Casting agencies based in Cardiff and Bristol have been seen asking for trombone, saxophone, piano, and violin players. An actress "trained in musical theater" posted a picture of herself at Bad Wolf Studios simultaneously with Jink's filming block. 
More details emerged during filming on Bank Holiday Monday. The street location for filming was dressed as Abbey Road. Many now believe that the episode – possibly the main musical episode of the series – will be centred on the Beatles. This was supported by a characteristically cheeky interaction by Russell T Davies on Instagram. Davies commented on a photo of the Beatles, saying, "I would so write that." The post was deleted soon afterwards.
Finally, although this particular rumour is more likely to be a hoax, some people also reported seeing Lin Manuel Miranda during filming. Miranda has a history with Bad Wolf Studios, having acted in their tv adaptation of 'The Northern Lights.' If true, Miranda might collaborate with Gold. Perhaps contributing lyrics while Gold focuses on composition.  However, reputable sources observing the filming have not said anything. Without a picture, this should be treated very lightly.
---
Doctor Who will air in November 2023 with three special episodes as the show's 60th Anniversary headliner event. David Tennant returns as the 14th Doctor alongside Catherine Tate as Donna Noble. Ncuti Gatwa's first episode as the Fifteenth Doctor will air over the festive period, while his series 14 will debut in 2024 with Millie Gibson. Disney+ will be the exclusive home for new seasons of Doctor Who outside of the UK and Ireland.
---
More From Nerdgazm
🚨 – The new Doctor Who: The Collection release – Season 9!
🔥 – An Exclusive Whoniverse Chat With Short Trips Writers Angus Dunican & Felicia Barker!
👀 – EXCLUSIVE: Doctor Who: Redacted confirmed for a second series!
You can also Follow Nerdgazm on Twitter, Find us on Facebook & Check out our Instagram!