The Torchwood saga rages on, with none other than Andy Davidson (Tom Price) at the helm! September's monthly release is called Torchwood: Dog Hop and comes to us from the writing team of Stewart Pringle and Lauren Mooney. Andy's easily the character that the Torchwood audios have done the most with, taking him from a minor character to a leading man, member of the team, and even a companion to the Doctor! Watching him take on something a little smaller scale is nice. It's like a detective drama series in the Whoniverse.
The married writing team have previously given us stories like The Lincolnshire Poacher, disturbing fun and haunting listen. So is it possible that they can do the same thing taking on Andy? How disturbing can a story about dogs be, right? Surely it will all just be good, lighthearted fun? Read on to review the latest addition to the Big Finish Torchwood saga!
The Proper Pub
Andy stumbles into one of the last proper pubs in Cardiff. Personally, I'm far removed from Cardiff, but smaller businesses like that are fading. So imagine my surprise when we get an audio set in one. For a release that had dogs all over the cover, I was surprised. Getting a Big Finish audio reliant on that setting, filled with regular customers and bartenders, was an inspired choice. It feels very real, and the soundscape the team have created gives us a setting that the listener can picture vividly. As the audience, we're being let into this perfectly normal world and it's beautiful.
There's a found family atmosphere to this story, the characters really pop. Unlike a lot of releases, these minor characters feel very fully formed. Nia (Zadeiah Campbell-Davies) does a commendable job as a foil for Andy. It's something that Big Finish excel at, creating one-off characters that are beautifully put together. Her budding relationship with Andy feels very real for something contained within an hour. The dynamic between them, in that he doesn't believe her story, presented a really interesting style of Torchwood story.
The other big side characters in the story are Kenn (Gareth Armstrong) and Mary (Lissa Berry) who really feel like they ought to open a detective agency of their own. While we almost certainly won't see them again, it's nice to sit down with some regular people in the Whoniverse. They also offer some welcome comic relief. Although, especially with Kenn there's an almost tragic subtext to a lot of this. Both performers settled into their roles nicely. The story not only nails its setting, but it really soars when it comes to the people inhabiting it.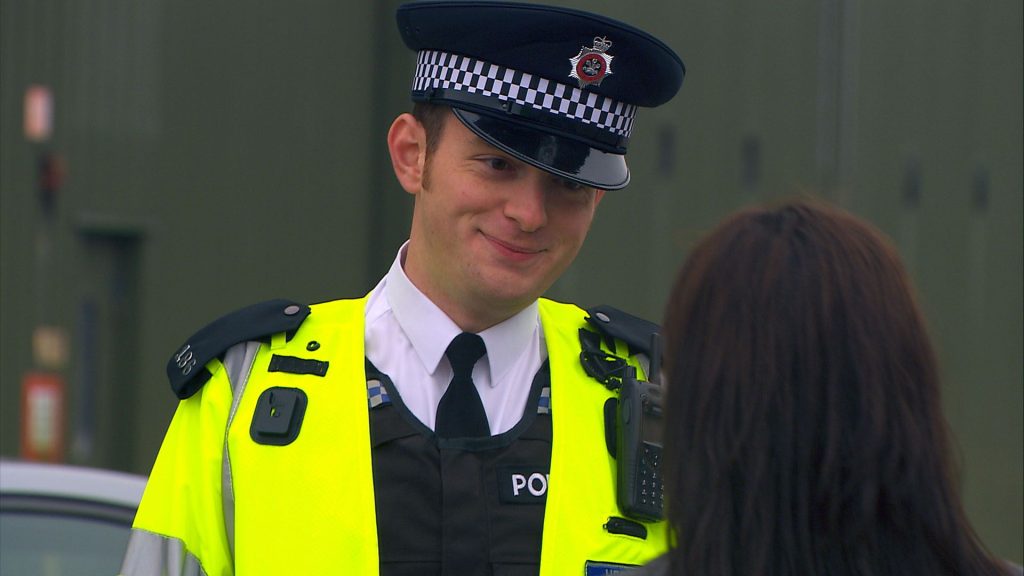 Dog Hopping
Andy's a character that, to put it mildly, has seen some things. Need I bring Get Andy from Stranded 4 into this discussion? The fact the man is still alive is a miracle, let alone the fact that he's still working. Although believing that people are getting their souls put into dogs might be a bridge too far for our favourite Sergeant. I actually understand that too, because the premise for this isn't timey wimey fun, it's downright ridiculous. It's a whole different flavour of silly compared to what he's used to.
That being said, it's still a recognisable kind of Torchwood silly. The script seems to be written aware of this, and never tries to overdramatise the contents. It also seems to have been written based on personal experiences and in-jokes. Unfortunately, this can mean some of the jokes don't land quite as intended for general audiences, but it's still a pretty fun time all round. It's one of those stories where listening to the interviews at the end changes your perception of what you just listened to. I really recommend listening to them, if only to hear the cast goof off after recording.
An angle I really wish the series would lean into more was Andy's belief in Nia's story. Doubt of sci-fi goings on is only truly possible with an Earth-bound series like Torchwood. Using it for a story about dog soul swapping is such a bizarre choice, but something about it just works. Speaking of dogs, the use of actual real dog performers for the audio and even a photoshoot was glorious as well. Dogs are cute, and Torchwood's attempt to make them a little eerie is camp in the best possible way.
Conclusion
While for some, the premise of humans being turned into dogs might be a little far-fetched, there's definitely a lot of fun to be had here. Given how a Big Finish Torchwood story has the power to disturb, this was a more than welcome diversion. That's not to say it's totally devoid of creepiness or unsettling material, but fresh off the heels of Sigil, this was a walk in the park. A story about gossip and gathering at a bar became darker than you probably expected. It's a beautiful palate cleanser with just the right amount of heart and, if anything, not enough dogs (there are plenty).
Next up for the Torchwood series is Odyssey, which comes out later on in October. As a varied monthly range, whiplash is common when listening in release order. We go from a campy dog mystery to a space relic. However, we've got a new lead in the form of Ida Scott (Claire Rushbrook) and new writer Patrick O'Connor joining the range. It's a very intriguing release, and the promise of a loose Ood trilogy is loads of fun.
You can pick up your own copy of Torchwood: Dog Hop exclusively from Big Finish Productions at the link here. It's available as a collector's edition 1-disc CD for just £10.99 or as a download only for £8.99.
---
Doctor Who will air in November 2023 with three special episodes as the show's 60th Anniversary headliner event. David Tennant returns as the 14th Doctor alongside Catherine Tate as Donna Noble. Ncuti Gatwa's first episode as the Fifteenth Doctor will air over the festive period, while his series 14 will debut in 2024 with Millie Gibson. Disney+ will be the exclusive home for new seasons of Doctor Who outside of the UK and Ireland.
---
More From Nerdgazm
🚨 – Doctor Who: Once and Future – Two's Company – Review
🔥 – BBC Remastered Doctor Who Series 1-4 for 60th Anniversary!
👀 – EXCLUSIVE: Doctor Who: Redacted confirmed for a second series!
You can also Follow Nerdgazm on Twitter, Find us on Facebook and check out our Instagram